An ongoing disturbance in the Atlantic Ocean could become an unusual January subtropical storm, with a report saying the system may "eventually begin to take on some subtropical characteristics."
Should the system become a subtropical storm, it would be given the name "Alex."
A report by The Weather Channel says, "The tropical Atlantic is usually in its winter slumber in January. That may not be the case in 2016.
"An area of low pressure is swirling in the western Atlantic Ocean near Bermuda, producing a large area of tropical-storm force winds."
Satellite image showing the disturbance [courtesy The Weather Channel]: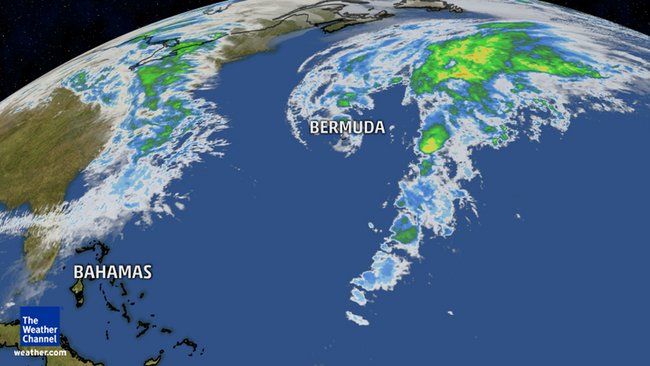 "Although the storm does not currently have any tropical characteristics, the National Hurricane Center is monitoring it for possible development into a subtropical storm later this weekend or next week.
"A subtropical storm displays features of both tropical and non-tropical systems, including a broad wind field, no cold or warm fronts, and generally low-topped thunderstorms displaced from the center of the system.
"Despite the current disturbance having a sizable wind field with maximum winds in excess of 60 mph, and a fairly well-defined center of circulation, its structure is comprised of a cold and warm front, as analyzed by buoy observations and satellite imagery.
"As the system moves northeastward to eastward across the open Atlantic, it may eventually begin to take on some subtropical characteristics. Despite generally warmer-than-average water off the East Coast, sea-surface temperatures are marginally supportive, at best, for a tropical system."
"Thus, any future organization with this system would likely be in a hybrid nature, exhibiting characteristics of both a non-tropical and tropical low.
"This low will pass close to Bermuda on Friday into Saturday, before turning east and possibly southeast. The farther south the system moves with time, the somewhat higher probability it may have for further organization, due to warmer sea-surface temperatures and lesser amounts of wind shear"
Read More About
Category: All