[Opinion column written by Sylvan Richards]
The Opposition's chief propaganda agent, Christopher Famous, continues to make false and misleading claims about the OBA Government and the policies that are being implemented to benefit all Bermudians.
In his attempt to re-write history he provides no credible evidence to back up his misinformation and half-truths, and insults all Bermudians by assuming our people are ignorant of the facts.
Take, for example, his spin on Term Limits. Yes, the OBA said Term Limits would be suspended while the policy was reviewed. However, once the OBA became government, we found legal opinions submitted to the Minister responsible for immigration in 2006, 2007 and 2008 that all reached the same conclusion – that Term Limits were harmful to the economy and contributed to Bermudian job losses.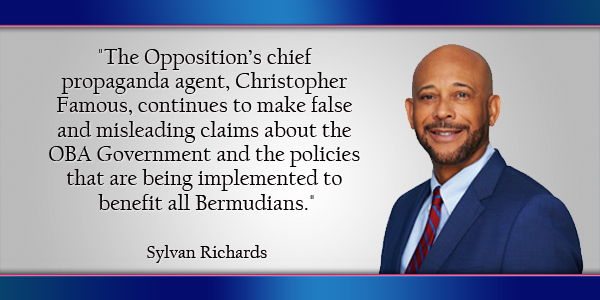 There was no longer a need to review the policy as that work had already been done and ignored by the PLP Government. This is an example of politically expediency at its worst.
The PLP ignored the damage and job losses forced on Bermudians by the misguided Term Limits policy. And who suffered the most harm from this misguided policy? You did, Mr. and Mrs. Bermuda.
The highest number of work permits in Bermuda's history – 18,131 in 2007 – were granted under the PLP Government. More than 70% of term limit waiver applications were granted under the PLP which led to residents being here for 15 or 20 years and longer.
Yet now, based largely on the skin colour of these long term residents and assumptions on how they might vote, Mr. Famous wants us to deny them rights in a place they have contributed to for much of their working life and kick them off the island.
As has been repeated many times, the OBA did not grant PRCs the right to apply for status in July, 2014. In 2002 the PLP amended the Bermuda Immigration and Protection Act that paved the way for 1,455 PRCs to apply for status. The Chief Justice ruled on this matter and there was, and still is nothing the OBA Government can do to prevent these applications going forward.
When working on immigration reform during the last few years the Minister proposed a raft of measures, some of which have been implemented and some of which have not. Allowing children of work permit holders to seek summer employment, for example, was proposed but shelved.
The same is true of commercial immigration [as has been implemented in some of our Caribbean Neighbours to the south] but this was also shelved by the OBA Government as it was felt such a policy was not in Bermuda's best interests.
Mr. Famous attempts to re-write history by ignoring the fact that the PLP Government increased the amount of land that could be held by non-Bermudians from 2,000 acres to 2,500 acres and the PLP also allowed exempt companies to invest in residential property.
He ignores the fact that the Job Makers Incentive Act, which allows senior executives in International Business to not be subjected to term limits and seek Permanent Residency, was introduced by the PLP Government in 2011.
He uses quotes out of context, as he does for the Minister of Finance, to try and incite racial division.
Mr. Famous' daily deceit and spin simply fertilises the Opposition's truth deficit. He is Bermuda's Chicken Little – he keeps shouting that the sky is falling but it's not. The economy is growing and investment and opportunities for Bermudians are increasing.
Mr. Famous is simply carrying out his marching orders from Alaska Hall to continue the sustained program of dis-information and falsehoods, therefore, Mr Famous is part of the problem rather than part of the solution.
- Sylvan Richards

20 Most Recent Opinion Columns

Opinion columns reflect the views of the writer, and not those of Bernews Ltd. To submit an Opinion Column/Letter to the Editor, please email info@bernews.com. Bernews welcomes submissions, and while there are no length restrictions, all columns must be signed by the writer's real name.
-
Read More About