The Bermuda Cricket Board announced the National U17 team selected to compete in the ICC organised triangular tournament which will be held from July 14 – 20, 2016 in Houston, Texas.
Bermuda will take on Canada and USA in a double round robin format in a competition that is designed to assist all three countries in their preparation for the 2018 ICC U19 Cricket World Cup.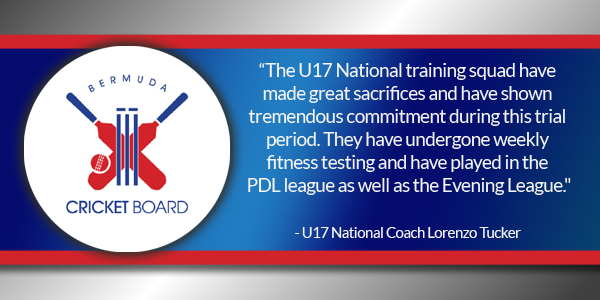 U17 National Coach, Lorenzo Tucker stated, "The U17 National training squad have made great sacrifices and have shown tremendous commitment during this trial period.
"They have undergone weekly fitness testing and have played in the PDL league as well as the Evening League.
"It was extremely difficult selecting just 14 players from a squad of 31 which is a testament to how well everyone performed.
"I am very confident the selected players will represent our country very well at the upcoming tournament in Houston."
The team:
Cory Burgess
Solomon Burrows
Rudi Butterfield
Jabari Darrell
Cameron Jeffers
Jaiden Manders
Kameren Mason
Nirobi Mills
Azar Morrissey
Nzari Paynter
Dalin Richardson
Alje Richardson
Marcus Scotland
Dean Simons
Standbys:
Jerez Eve
Sancho Jackson
Sher-maur Gomes
De-Nyi Thomas

Read More About