[Opinion column written by Senator Renee Ming]
In the 2015 Throne Speech Reply, delivered by Opposition Leader Marc Bean, key references were made to ways in which a PLP government would further economic development in Bermuda.
These references were also included in the 2016 Budget Reply by Shadow Finance Minister, Mr. E. David Burt, which laid the groundwork for economic and social reinvigoration of Bermuda.
One of the transformational commitments made is to establish a technological incubator at South Side, and to leverage Bermuda's location and regulation to make our island a hub for FinTech.
FinTech, short for Financial Technology, is the industry comprised of companies that use technology to make financial services more efficient. These companies can range from those that provide mobile banking & payment services, peer-to-peer lending, micro financing, and compliance services.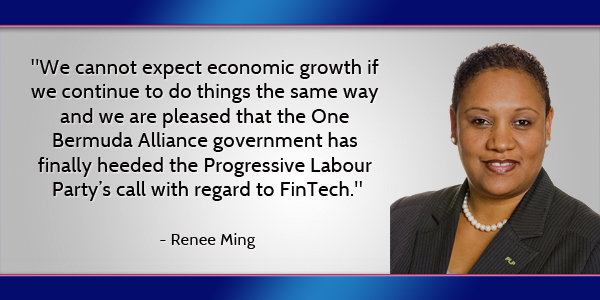 In the 2015 Throne Speech Reply, it was stated regarding FinTech "It is one of the fastest growing areas in terms of the global financial services industry. While we will need to ensure that the right regulatory and tax regime is in place and that costs, as it relates to communications and energy, are competitive, we are confident as with similar island states such as the Isle of Man, along with traditional centers such as Silicon Valley, New York City and London, that we to can compete in this space." P4 Throne Speech Reply 2015
FinTech has become increasingly prominent in recent years with global investment growing from $1billion in 2008 to $19 billion in 2015.
The passage of the Money Services Business Act can serve as the catalyst to establishing a FinTech industry in Bermuda. We in the PLP have been calling for diversification of our economy, and the development of a FinTech industry in Bermuda will assist us in that regard.
We cannot expect economic growth if we continue to do things the same way and we are pleased that the One Bermuda Alliance government has finally heeded the Progressive Labour Party's call with regard to FinTech.
Our young people need hope and need to feel that there are opportunities for success. The vast majority are doing the "right thing" – going abroad for education, many even going to the graduate level, but returning home to a country with little to offer them in terms of relevant employment.
This trend needs to stop, and economic diversification via FinTech and other industries can reverse this trend.
There are many Bermudians that are well versed in emerging technologies and they should be able to take advantage of these opportunities.
For additional information regarding FinTech and the Progressive Labour Party's plan for Bermuda, visit here.
- Renee Ming

20 Most Recent Opinion Columns

Opinion columns reflect the views of the writer, and not those of Bernews Ltd. To submit an Opinion Column/Letter to the Editor, please email info@bernews.com. Bernews welcomes submissions, and while there are no length restrictions, all columns must be signed by the writer's real name.
-

Read More About
Category: All, Business, News, Politics, technology