Local welterweight champion boxer Nikki Bascome is getting set to enter the ring again for the 'Takeover Fight Night' event, thanks in part to sponsorship for Gorham's.
The home improvement store, currently in its 80th year, is the lead sponsor for Mr. Bascome's upcoming match on December 3 in the Berkeley Institute Gymnasium.
To prepare, the fighter will be leaving the island on Saturday [Nov 12] to take part in an intensive training camp in Orlando, Florida, under the supervision of veteran coach Allan 'Forty' Rego.
Gorham's Rod Farrington, Nikki Bascome, and Gorham's Andrew Mackay: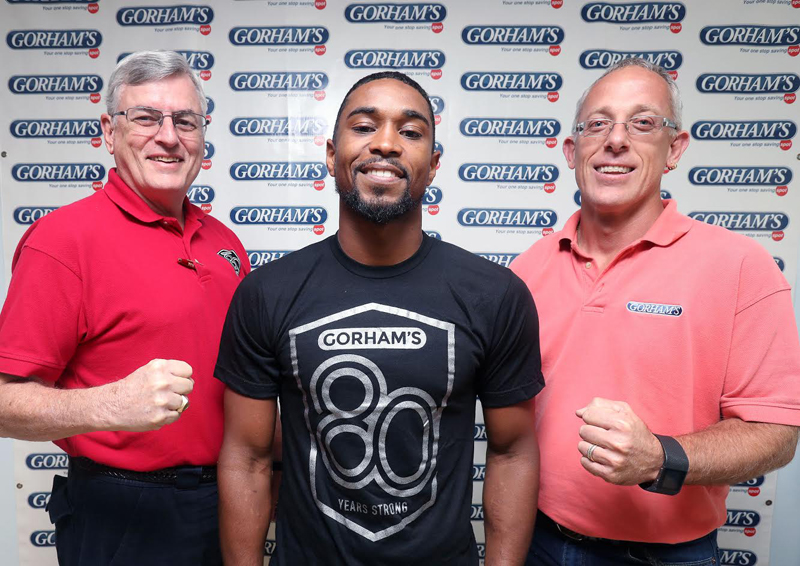 Mr Bascome said, "This upcoming match means a lot because it's a stepping stone for me to get to that next level in my career and also provides an avenue for people coming behind me who want to pursue the sport.
"The local boxing scene hasn't really been as active as it used to be, but with this fight it will give me an even greater platform to motivate other young kids to get involved.
"Altogether I haven't had a fight in almost a year, so I'm excited about getting some fresh experience in the ring and grateful to Gorham's for helping to make this possible. They're a great company that wants to see our local talent progress so I'm just happy and honoured to be able to have that backing."
Andrew Mackay, Gorham's General Manager, said it meant a lot for the company to support Nikki Bascome as he works to get to the next stage in professional boxing.
"We saw this as an opportunity to get behind a young Bermudian, who has faced adversity all his life and give him that boost of support to allow him to pursue a dream he has always had," Mr Mackay explained.
"Nikki is such a humble individual and his personality is one where we think a lot of others can learn from, in particular some of the younger Bermudians who are drifting from the straighter path and towards one that might not lead to a positive outcome.
"Nikki has not had the easiest of upbringings from what we understand and this is our chance to help him make a difference and be a strong example for others to follow."
Mr Bascome started boxing at the age of 14 under local trainer Forty Rego. Next month the undefeated champ will go head to head in a six-round bout against a more experienced international opponent in Donny Miller.
David Burch, part of Mr Bascome's support team, said, "We are happy to see Nikki step things up in response to the suggestion that he is fighting below his potential. For fight fans, it will be interesting to see him have to strategize against a more seasoned and experienced opponent.
"We also know that Nikki has a huge local fan base so we expect this card to be well supported."
Fellow Bermudians Andre Lambe and Tyler Christoper will also enter the ring at the event. Mr Lambe will face off against Jason Canamaso of Baltimore Boing, while Controversy Gym's Mr Christopher will work to defend his 5-0 winning streak in a battle with American opponent Gilbert Anthony Vargas.
Tickets for the match are on sale now at bdatix.bm and will also be available soon at ticket outlets island-wide, including Gorham's. For more information, e-mail teamnikki@logic.bm.

Read More About