TeamBDA has been training full time since January of this year as they prepare to take on 11 other nations in the Red Bull Youth America's Cup in June.
Their training schedule is rigorous and thorough, and although their schedule can vary largely depending on the weather, below is what a typical day looks like for the young athletes who make up TeamBDA.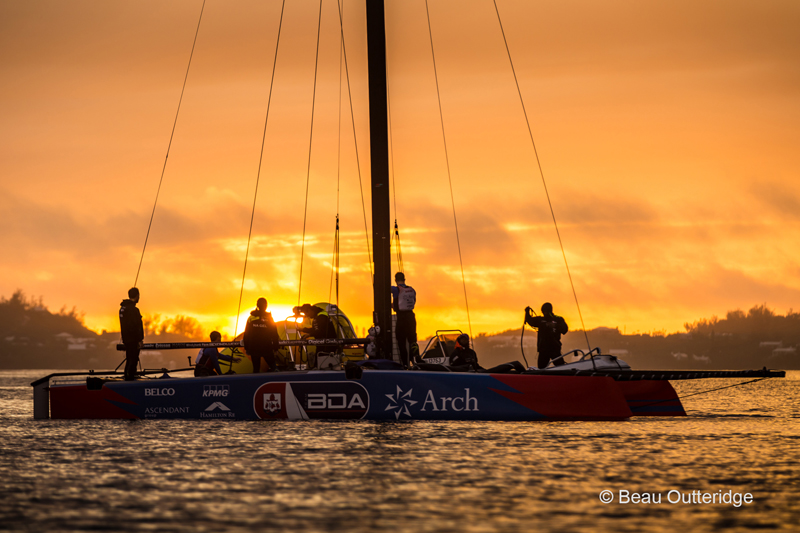 6:30am: Rise and Shine – TeamBDA sailors wake up to start their busy days.
8am: Time to Workout – The team arrives at their home gym, Beyond Fitness, sometimes as early as 7am, although they aren't expected until 8am.
They are greeted by Personal Trainer Shaun Green, who designs their workouts to mimic the movements involved in racing a high performance foiling catamaran.
They alternate between weight lifting and cardio, and also have strength conditioning exercises, yoga, Pilates and stretching sessions built into their weekly regime.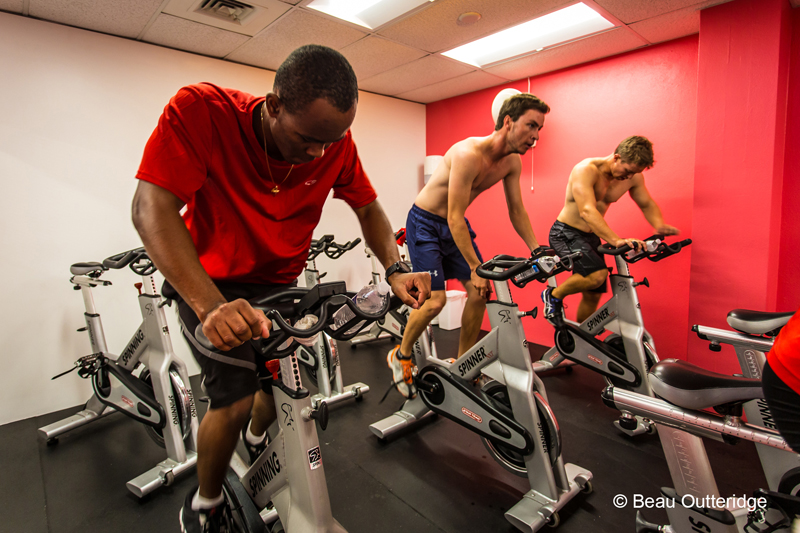 9:15am: Food for Fuel – They arrive at the 'home base' in Pembroke after their work-out for a large, protein-filled breakfast prepared by Team Manager Laura Cutler. Some sailors have as many as five eggs each morning to start their day.
Team members will also use this time to schedule physio appointments to deal with the various aches and pains accumulated during their sailing training.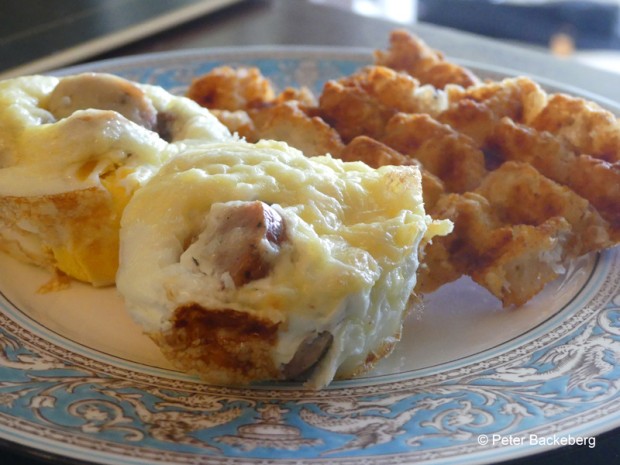 10:15am: Class in Session – Each day before the team head out on the water they go through a video debrief with the coaches to check out where they did well and where they can improve. The videos are captured each day from the team's chase boat and on-board cameras that show boat speed and other data.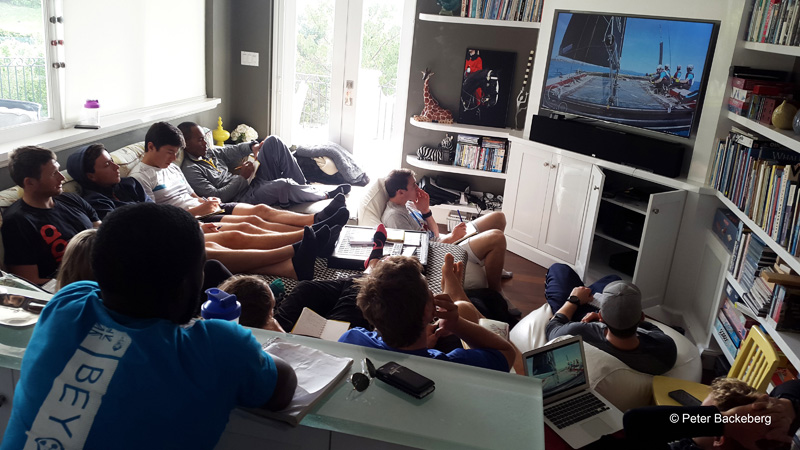 One of the things the coaches look closely at are the movements of everyone on the boat. The choreography has to be perfect – if one person is off kilter, that can throw off the whole boat and kill a manoeuver.
The team can also share their thoughts on particular actions, something that can be very productive re making adjustments.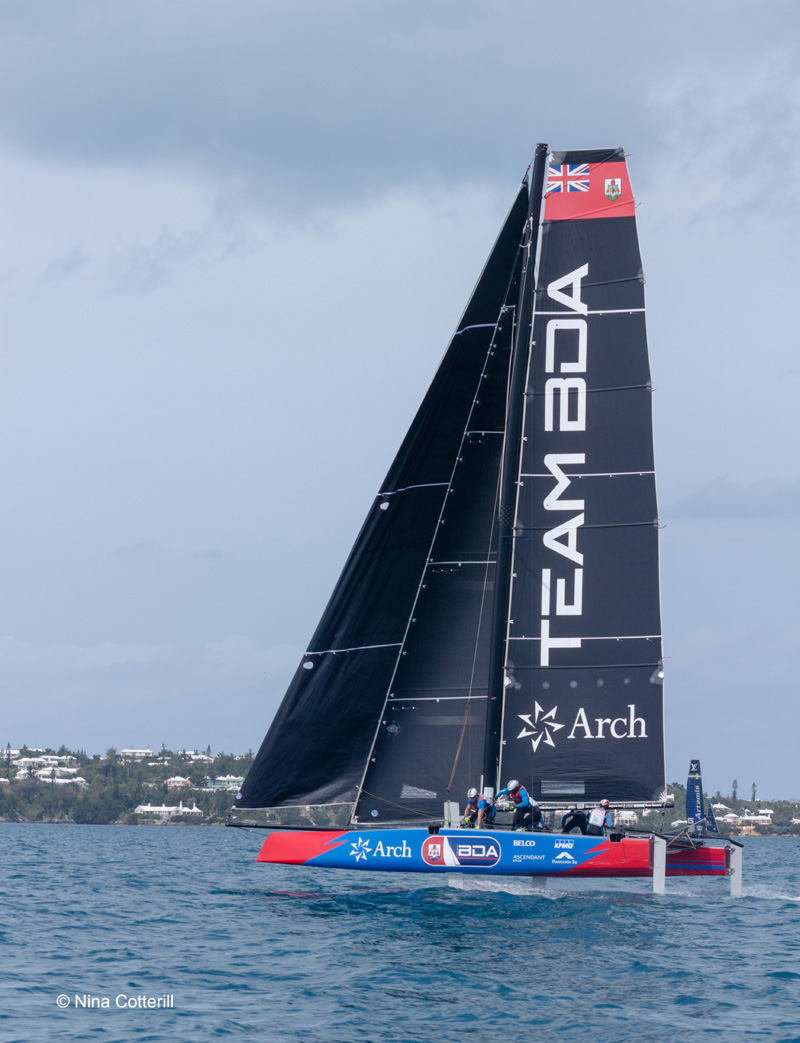 11am: Hit the Water –  Although this depends on when this wind is best for practicing, they usually set sail for their team base on Darrell's Island at 11am.
Head Coach Richard Clarke checks various weather sites throughout the week so he can determine the best conditions to train. The young sailors have had to learn to be ready at the "drop of a hat" as time on the water is key.
If the weather is good, they will stretch out the time on the water and start a few hours earlier.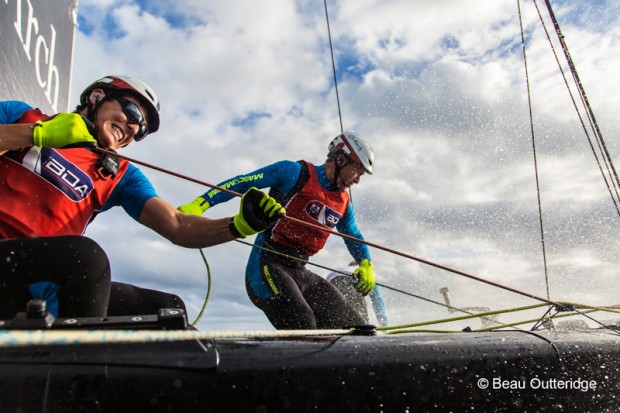 Of course, before they can set sail they need to rig the boat/s that they will be training in that day. There is also a regular schedule of boat maintenance that the team conducts to make sure their boats are always ship-shape.
Depending on the weather the they will train in either the team's two Nacra 17s, an Olympic Class catamaran, their Phantom, a smaller two-person foiling catamaran donated by Oracle Team USA, or on their GC32, "CAT 5", a high performance 32-foot foiling catamaran that is the team's main training platform as they get ready to race in the Red Bull Youth America's Cup in June 2017.
The actual regatta will take place in AC45s, the same catamaran the America's Cup teams have been racing the in the Louis Vuitton America's Cup World Series.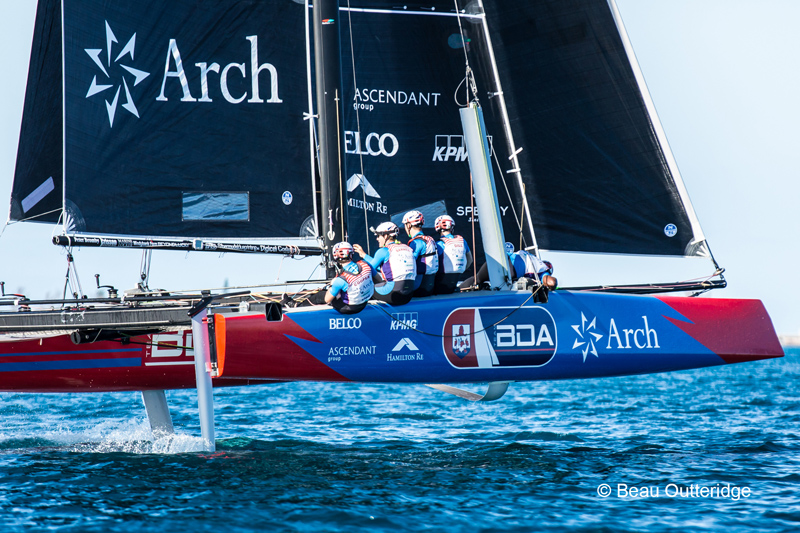 6:15pm: Before going home for the day the team must de-rig and store the boats, then TeamBDA sailors return to home base for a short meeting. Once that is done they go home for dinner and rest to do it all again tomorrow.
If you would like to learn more about the team and their journey to the Red Bull Youth America's Cup you can meet them at Liberty Theatre on Wednesday April 26 from 6-7pm.

Read More About