Bermuda High School [BHS] has announced record results for its 2017 International Baccalaureate Diploma cohort, with one student achieving a perfect score of 45 points and five students scoring 40 points or over.
A spokesperson said, "Forty-three out of the 52 students in the graduating class were entered for the full IB Diploma, of which 38 were successful in obtaining it.
"The remaining students successfully completed their IB courses. Twenty-eight IB Diploma awardees [74%] achieved 30 points or higher. The 2017 BHS average point score was 33 points for those achieving the full diploma, which surpasses the world average of 30 points."
Head of School Linda Parker said, "We are thrilled to report outstanding results this year with Brianna Mendes scoring the maximum possible 45 points, placing her in the top 0.3% of students worldwide."
Brianna Mendes, Megan Sutcliffe, Georgia Bower, Emma O'Donnell and Shanyce Morris: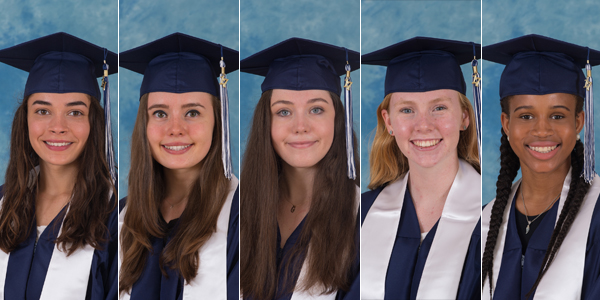 Mrs. Parker continued, "Megan Sutcliffe gained 44 points out of a possible 45 points and Georgia Bower scored 43 points. Other top scorers are as follows: Emma O'Donnell, 41 points and Shanyce Morris, 40 points. Our high success rate for the full IB Diploma is particularly noteworthy as unlike many IB schools worldwide, we do not pre-select students for entry into the IB Diploma; but rather all students are given the opportunity to attempt this challenging programme and fulfill their potential.
"We thank our talented teachers for their unwavering commitment and subject expertise in helping these students achieve their highest potential. We are proud of all of our IB students for their strong work ethic, focus and determination to achieve their best against the challenging IB academic standard.
"We are confident that our graduates are well-prepared for their future endeavours, and we wish them continued success."
Kate Ross, Head of IB and IB Coordinator, said, "This year, as in previous years, we are pleased that so many students who were given the opportunity to stretch towards attaining a full IB Diploma met their goal with the help and guidance of our teachers, the support of peers and parents and their own unfailing hard work and tenacity.
"A third of our IB students have been with us since Year 1, so it has been especially rewarding to witness them complete their BHS education and move on to further education with the security of an international qualification.
"For those other students who joined us at various stages, we are delighted to see that their BHS experience has paved the way for further success."
"Students from the graduating class of 2017 have been offered places to pursue degree courses in Canada, the US and the UK. Top scorer, Brianna Mendes will pursue a Bachelor of Commerce in Mathematics at McGill University.
"Megan Sutcliffe will be doing a dual degree in European Social and Political Studies at University College London and Sciences Po, Paris, while Georgia Bower will be attending Durham University to study English Literature. Emma O'Donnell is heading to Princeton University to pursue Liberal Arts while Shanyce Morris plans to attend The London School of Economics to study Politics and International Relations.
"Other acceptances came from:
Acadia, Dalhousie, Guelph, Queen's University, University of British Columbia, University of Ontario Institute of Technology, University of Toronto, University of Western Ontario, Vancouver Film School and Wilfrid Laurier University in Canada.
George Washington University, University of Colorado, Boulder and the Culinary Institute of America in the US.
The Royal College of Surgeons in Ireland and the Universities of Coventry, Kent, Keele, Liverpool, Manchester and Kings College in the UK.

Read More About