Ami Zanders, Chan Richardson, Kyle Simmons, Mikayla Wilson, and Shona Maule are the recipients of this year's Bermuda Arts Council Student Grant Awards, a programme which awards grants of $5,000 to $15,000 to help support Bermudian artists.
Minister of Social Development and Sports Zane DeSilva met with the recipients, saying: "It was such a pleasure to meet with the award recipients and hear about their exciting plans for the future.
"We have some incredible talent here in Bermuda both in the visual arts and the performing arts realms and it is vital that we continue to nurture that talent however we can. This year's recipients are truly deserving of this grant and I wish them the best of luck as they continue to pursue their passions."
Chan Richardson, Shona Maule, Mikayla Wilson, Minister DeSilva, Jennifer Simmons [representing her son Kyle Simmons], Ami Zanders and Chairperson of the Bermuda Arts Council Tona Symonds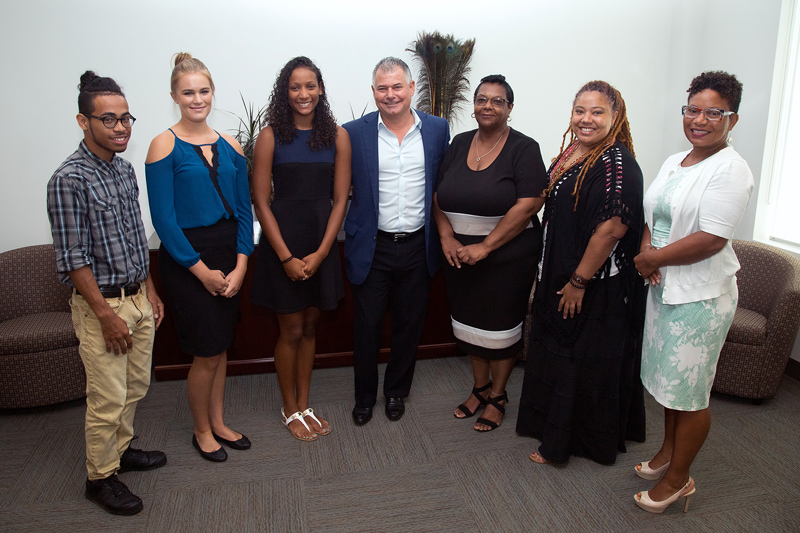 In 2013, the Council formalized the Student Grant Award, setting aside $40,000 to award to five or six student artists in incremental of amounts of $15,000, $10,000 and $5,000.
"The Bermuda Arts Council receives its annual funding through the Department of Community and Cultural Affairs which falls under the Ministry of Social Development and Sports.
Chair of The Bermuda Arts Council Ms Tona Symonds said, "The Bermuda Arts Council is proud to support the next generation of Bermudian artists that will make their mark in museums, films, dance and music, leaving an indelible impact on our amazing island and the world."
The Bermuda Arts Council on average receives 25-40 application per year; during 2017, 29 student applications were received and there were five recipients. Recipients are selected based on the quality and completeness of the application, artist aptitude in their chosen art form, community involvement and financial need.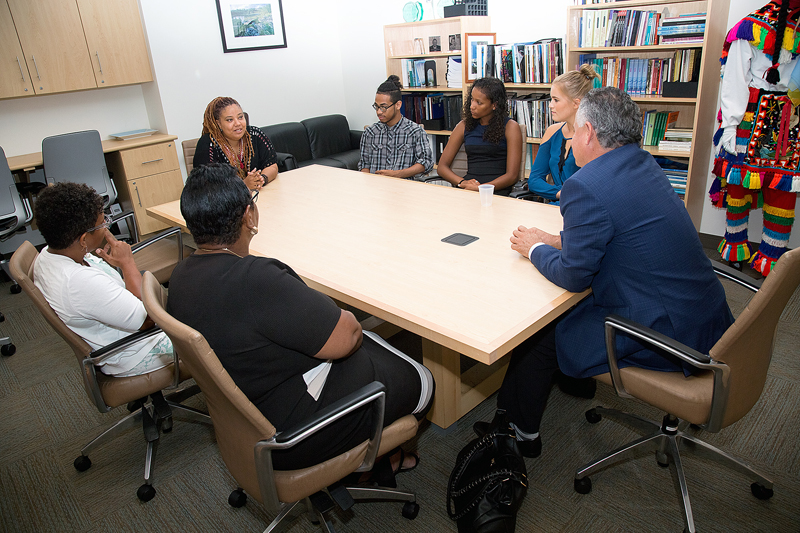 The 2017 recipients are:
Ami Zanders – $15,000
Kingston University, UK – Master of Fine Art in – in Fine Art
Ami is an established visual artist and community event organizer. She has participated in several local exhibitions including a solo exhibition earlier this year and the 2014 Bermuda National Gallery Biennial. Ami has organized several events to promote art in Bermuda; she one of the founders of Art Walk in St. George's and is a former member of the Bermuda Arts Council.
Chan Richardson – $10,000
Manchester Metropolitan University, UK – BFA in Fine Arts and Art History
Chan recently graduated from Saltus Grammar School where he won numerous awards including the Outstanding Young Artist Award and a certification from the Center for Talented Youth. In addition to being a visual artist, Chan is an accomplished musician, playing the trombone and piano, as well as an actor and a talented singer.
Kyle Simmons – $5,000
Ontario College of Art & Design, Canada – Bachelor of Arts majoring in Integrated Media/ Photography and Film
Kyle Simmons' work in photography and videography can be seen throughout the island. Kyle started his career with the Bermuda Yellow Pages delivering directories; his undeniable talent was soon recognized and he was elevated to the position of Junior Media Manager. Kyle's work has been displayed at the Scotia Bank Art Exhibition in Canada and, earlier this summer, Kyle was featured in the BSoA's Members Show along with two other artists.
Mikayla Wilson – $5,000
Point Park University – Bachelor of Fine Arts with a dual major in dance and sports/arts/entertainment management
Mikayla recently graduated from Grier School which is renowned for dance education. Mikayla endeavors to become a professional dancer and then to have a second career in sports/arts/entertainment management. Prior to attending Grier, Mikayla was a member of In Motion School of Dance, Senior Company. In 2010 she participated in the National Dance Foundation Summer Intensive and was awarded the Catherine Zeta-Jones Young Dancers Programme Award. Mikayla is also an avid sports person having competed in a variety of events including cross country, volleyball and high jump.
Shona Jesse Maule – $5,000
Guilford School of Acting, UK – Degree in Actor Musicianship focusing on Musical Theatre
Shona would like to be a professional actress; she is also an accomplished musician and singer achieving Grade 8 distinctions in piano, voice, clarinet and LAMDA Musical Theatre. Shona attended Saltus Grammar School prior to enrolling in Guildford School of Acting. This summer she has worked with The Somerset School dance, BHS' Imagination Camp [a performing arts camp] and assisted in numerous musical theatre workshops both in Bermuda and the UK.

Read More About
Category: All, Entertainment, News