The Plates of Passion – a one-of-a-kind dining and fundraising event run by Bermuda Hospitality Institute —  was launched yesterday at Bermuda College.
Local Culinary Arts students were paired up with some of the Island's top chefs for the popular event, which takes place on Wednesday, November 1. Part proceeds raised from the dinner go towards scholarships for local culinary arts students participating in the scheme.
Over the next six weeks, students will have an opportunity to shadow their mentor chef, collaborate to create recipes and then assist with meal preparation.
According to Enworth Davis, the Executive Chef at Mid Ocean Club, it's a great event to take part in and provides him a chance to give back and invest in Bermuda's future talent.
"I really enjoy it," he said. "I have been here in Bermuda for a little while now and I recognise the industry is embarrassingly low on Bermudian chefs.
 Plates of Passion Chefs and Students, photo by Jamie Macmillan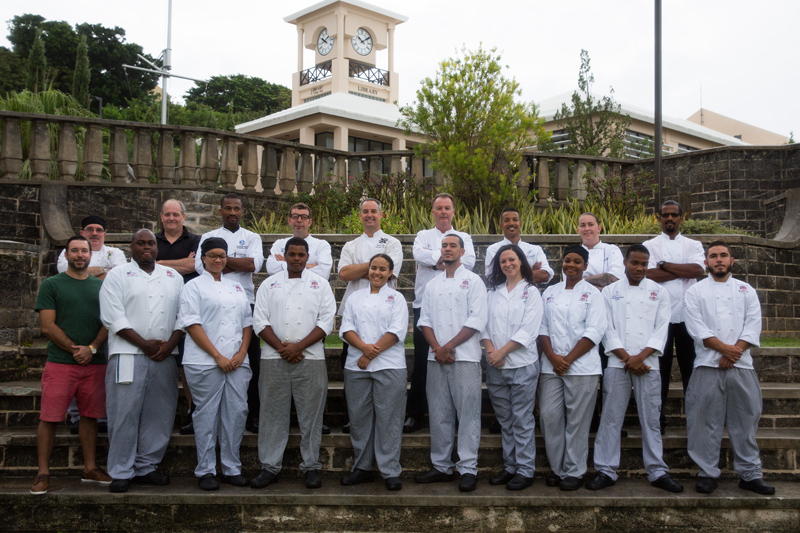 "And while there are times for us to toot our own horns as foreign workers coming in, I think the market demands Bermudians to be at the forefront of this industry. We don't sell Bermuda as well as Bermudians can."
This is the third time Mr Davis has taken part; and each year he said it's inspiring to watch the young people grow and get excited about cooking.
"You can tell these students want to be a part of it," he said. "I also enjoy seeing their pride when they get to present their courses to guests on the night. That's incredible as well."
Derek Myers, Executive Chef at Island Restaurant Group, will be paired with Bermuda College student Serena Simmons.
Mr Myers said: "Events like this are good for the industry and get Bermudians involved and showcase what talent is available on the Island.
"This is my third year doing this and it is great fun. The chefs don't take ourselves too seriously. And we only have to create 14 plates, so it's not stressful at all. It's exciting."
This year's event is different in that there are two young Bermudian chefs serving as mentors.
Malika Cartwright, Executive Director of the Bermuda Hospitality Institute, stated: "This is the fifth year we've hosted Plates of Passion and I'm particularly excited for the line-up of chefs taking part in this year's event.
"We have two Bermudian chefs – Michiko Campbell, a Sous Chef at Royal Bermuda Yacht Club, and Julianna d'Estelle Roe, Sous Chef at Marcus' Bermuda – who will be working with the students this year, which is extremely important.
"It shows the students there is progression in the culinary arts and both Mr Campbell and Ms d'Estelle Roe will be able to share their experiences and what it's like working as young Bermudians in this industry."
Plates of Passion is one of the BHI's biggest annual fundraisers. From each ticket sale $50 is donated to scholarships for local culinary arts students and helps them pay for books and other culinary arts materials.
Tickets are $185 each or you can reserve a table of 10 for $2,000. It's always a sold-out event so attendees are encouraged to reserve their tickets early, by calling 295-5049.
The 2017 Plates of Passion teams include:
Executive Chef Derek Myers & Serena Simmons – Island Restaurant Group
Executive Chef Chad Mitchell & Aaron Albouy – Red Steakhouse & Bar
Executive Chef Gerry Adams & Jai-Onni Outerbridge – Rosewood Tucker's Point
Chef de Partie Chris Totah & Annie Masucci – The Newport, a Gastropub
Executive Chef Enworth Davis & Riona Buckle – Mid Ocean Club
Head Chef Paulo Izaguirre & Anthony Sousa – The Village Pantry
Sous Chef Michiko Campbell & Nevar Dacosta – The Royal Bermuda Yacht Club
Owner/Executive Chef Edmund Smith & Tyrone Pedro – Ascots
Sous Chef Juliana d'Estelle Roe & Terreicay Richardson – Marcus' Bermuda
Executive Chef Robert Nicolle & Barry Gibbons – Tom Moore's Tavern

Read More About
Category: All, Entertainment, News