The City of Hamilton announced that tickets for the Bermuda Fashion Festival are now available to purchase on www.ptix.bm.
"Bermuda Fashion Festival is Bermuda's Premier Fashion Week, proudly produced by the City of Hamilton. In its eighth year, 2017 promises even more excitement, glamour and incredible surprises," the City said.
"The week-long event, October 28 – November 4, includes three international standard fashion shows featuring international and local designers, salons, Bermuda's retailers and of course, exquisite models."
Event Project Manager, Danilee Trott, said of the event, "Bermuda Fashion Festival 2017 is definitely a change from our usual summer extravaganza. We are looking forward to the new dynamics and interesting designs that fall fashion will bring.
"Our social event calendar has taken on a new twist that is season appropriate and we are excited about the range of opportunities that will be presented to Bermuda and of course our international guests".
Slideshow of last year's Fashion Festival Hair & Beauty Show
.
Lead Event Coordinator, Thomas Lightbourne added, "This year promises to be epic, filled with even better versions of your favorite shows and exciting new social events".
The official opening of the Festival will be MASK'D; a Masquerade Ball hosted in partnership with The Loren.
Available to purchase on www.ptix.bm are VIP and general admission tickets to all shows and social events. Also included are two options for Fashion Passports that encompass multiple events.
The Passport to Fashion – Runway Tour gives you an exclusive VIP experience at the Evolution Retail Show and general admission entry to both the International and Local Designer Shows.
The Passport to Fashion – VIP Experience gives you exclusive access to all Bermuda Fashion Festival events including VIP entry to all shows, and mingling with international guests at the exclusive Float Fashion Cruise.
The MASK'D Ball is not included in either Passport.
For all the details as they are revealed including participating designers, retailers and international guests, visit here.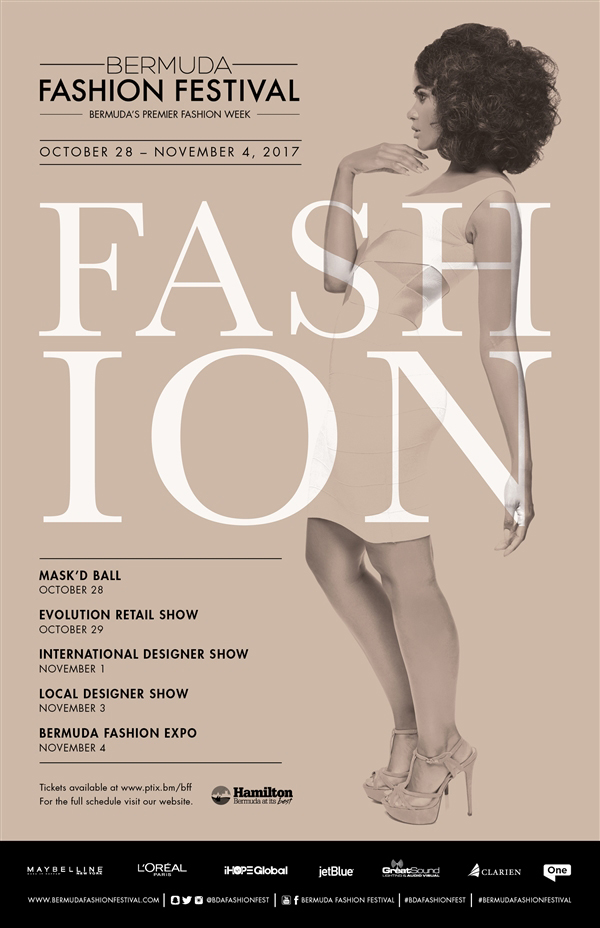 Read More About
Category: All, Entertainment, Style & Beauty