The Bermuda Audubon Society has donated five new Bluebird boxes for the Botanical Gardens just in time for nesting season, which begins in March.
The Botanical Gardens Bluebird boxes are managed by Eugene and Susan Harvey, who check on them at least twice a week to ensure the boxes are secure and the nests are free of ants and bird mites. Their care ensured that 23 baby Bluebirds were successfully hatched from the Gardens' boxes last year.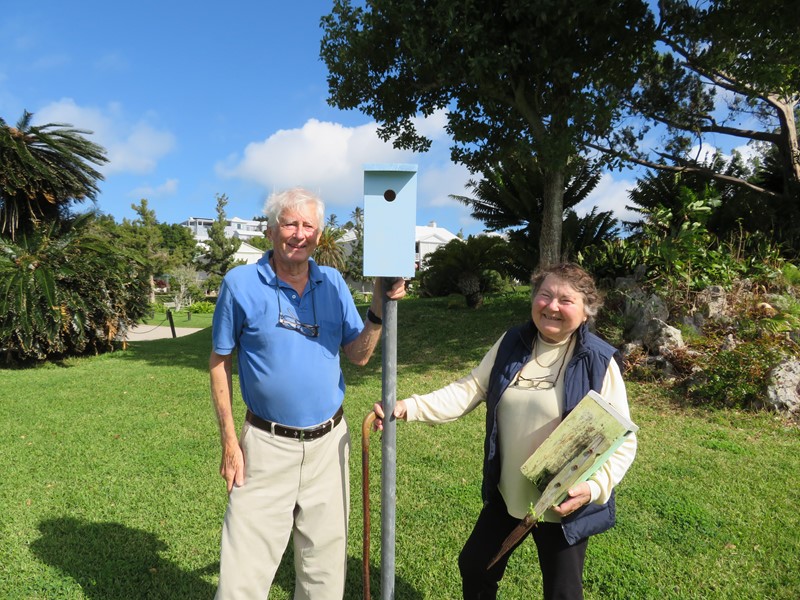 "The Bermuda Audubon Society is pleased to donate these boxes to replace some which were beginning to rot. Eugene and Susan have done a terrific job looking after the Bluebird trail at the Botanical Gardens over the years and we wish them continued success," said Karen Border, Secretary of the Society.
Bluebird nesting season begins in early March with most broods fledged by the summer, though second broods can sometimes fledge as late as August. Due to lack of natural nesting habitat, Bermuda's Bluebirds are almost totally reliant on man-made nest boxes.
Audubon Society boxes can be purchased from Aberfeldy Nurseries, and the Bermuda National Trust also sells nest boxes. Information on siting and caring for a nest box can be found on the Audubon Society's website audubon.bm.
For more information contact Karen Border on 238-8628.

Read More About
Category: All, Environment, News