Wesley Methodist Church will host an LGBTQ Pride Service on June 24th at 11.00am, saying they look forward to "welcoming all LGBTQ persons and allies."
The poster said, "Wesley looks forward to welcoming all LGBTQ persons and allies, along with members of the Bermuda Human Rights Commission, OUTBermuda and Rainbow Alliance of Bermuda in recofnition of Pride and will reflect the recognition and inclusion of the LGBTQ community in the full fabric of the Bermuda Culture."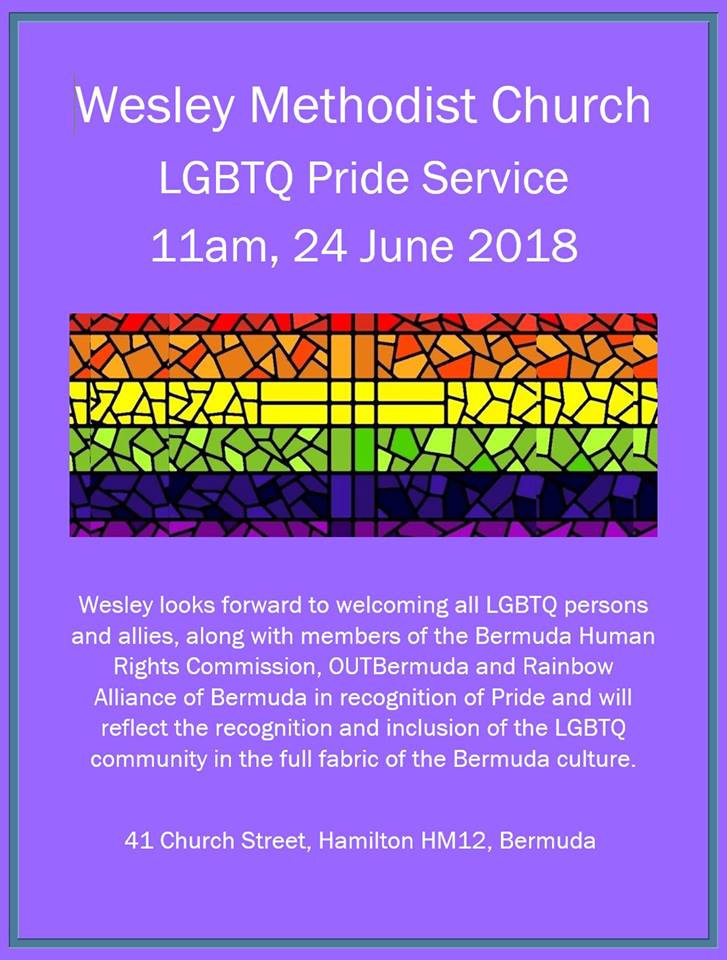 The church has been a strong supporter of the LGBTQ community, with their trustees filing an affidavit [PDF] in support of same sex marriage for the recent court case which said, "Wesley Methodist Church similarly believe that the revocation of same-sex marriage is unconstitutional.
"When marriage equality was achieved, every church in Bermuda gained the right to choose for itself whether to perform legally-recognized same-sex marriages or not. Churches that supported same-sex could choose to perform them. And churches that did not supported same-sex marriage could choose not to perform them.
"However, instead of simply choosing not to perform same-sex marriages, several churches and individuals successfully pressured Government into enacting their religious belief against same-sex marriage into law.
"When that law, the Domestic Partnership Act 2018, comes into effect on l June 2018, everyone-whether they hold that belief or not – will be bound by those churches' and individuals' belief.
"On that date, our congregation will lose the right to choose for itself whether or not to perform legally-recognized same-sex marriages. We will have no choice but to conform to the beliefs of churches and individuals who, for their own religious reasons, oppose same-sex marriage [for whose benefit the ban was enacted]. This, we argue, hinders our freedom of conscience and of religion and is unconstitutional."
The case has been heard, with Chief Justice Dr Ian Kawaley ruling in favour of same sex marriage earlier this month, with the judgement saying that the provisions of the Domestic Partnership Act that serve to revoke same sex marriage rights are invalid.
However the matter is not yet fully settled, as the Court granted a six week stay to allow time for appeal, and the Government confirmed they "will be appealing subject to any legal advice that we receive."
Wesley Methodist Church hosted a similar service last year during Pride Month, saying they want to "recognise each person's spiritual right to have access to safe spaces to worship and to live in the light of God's love."

Read More About