Conyers Dill & Pearman has chosen eight students as recipients of Legal Awards this year, with Mahogany Bean, Ashley Bento, Joshua DeAllie, Zantae Dill, Ashley Fubler, Candace Paynter, Amber Wilson and Kaisha Wilson all receiving funding.
"Including renewed funding for some past recipients, the firm is donating over $200,000 this year to support Bermudian students with their legal education. The firm has donated over $1 million to legal education in the past five years," the company said.
Kaisha Wilson, Zantae Dill, Joshua DeAllie, Ashley Bento, Candace Paynter, Mahogany Bean, Amber Wilson, and Ashley Fubler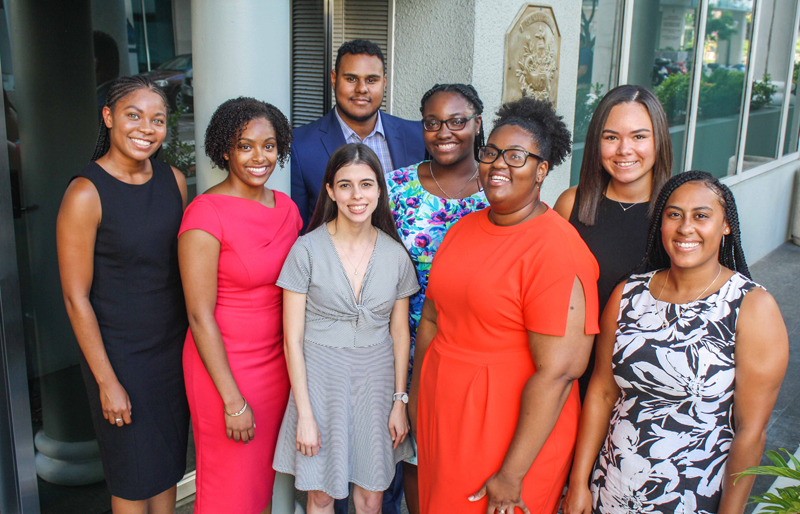 Conyers Legal Award Recipients 2018:
Mahogany Bean
Ashley Bento
Joshua DeAllie
Zantae Dill
Ashley Fubler
Candace Paynter
Amber Wilson
Kaisha Wilson
The recipients are at a number of different stages of their studies, ranging from first year undergraduates to those completing their postgraduate diploma in legal practice [LPC].
"Conyers is pleased to support these committed young people as they work towards their legal qualifications," said Helen Cooper, Director, who chaired the selection committee. "We congratulate all the recipients of our Legal Awards on their achievements to date and the dedication they have shown to achieving their goals."
Conyers is one of Bermuda's largest employers, with over 260 employees on the island, 89% of whom are Bermudian.
Lisa Spencer-Arscott, Global Head of Human Resources, said: "We have a strong sense of responsibility and are passionate about encouraging the next generation of lawyers. We are always willing to talk with those who are interested in pursuing a career in the legal profession, so students should not hesitate to get in touch with us."

Read More About