Tropical Storm Leslie is "not a threat to Bermuda at this time", the Bermuda Weather Service said, however they did say that "northerly winds will increase to strong by tonight as Tropical Storm Leslie churns to our distant east."
Leslie's closest point of approach to Bermuda within 72 hours is currently forecast to be 488 nm to the east at 3.00pm on Tuesday [Oct 2] with the BWS noting that "this system may move closer to Bermuda after this time period depending upon its track."
Graphic courtesy of the BWS: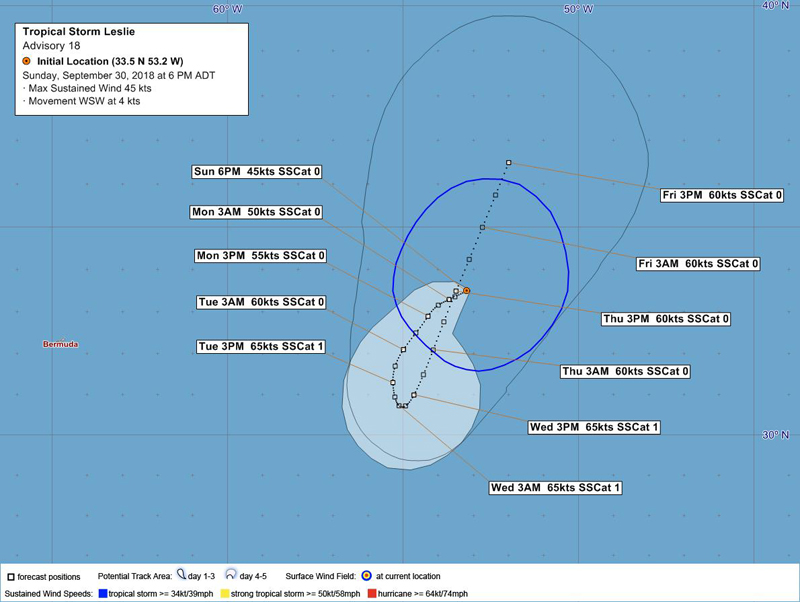 In BWS forecast discussion, Gary Hall said, "Short Term Forecast [Monday-Tuesday]: Tropical Storm Leslie will be at its closet point to Bermuda during this period this will be when we see our strongest winds, which guidance has been consistent with near 25 knots. Leslie per the NHC and latest model output is not expected to come within 400NM of Bermuda so it remains as 'not threat at this time".
"There will still be some minor low-level instability so patchy shallow cumulus and stratocumulus with a light shower or two can't be ruled out, but it is rather unlikely to be anything noteworthy if at all."
"The upper level high extending from the US east coast to Bermuda will also aid in keeping Leslie at a safe distance and provide overall good skies for both days.
"However, with Leslie in the area for a prolonged period of time there will be building long period swells and seas into the very rough range, thus the Small Craft Warning currently in effect will continue through this period."
Read More About