Voters will be heading to the polls for the municipal election in St. George's today, set to elect a new Councillor for the east end, and Cyniqua Anderson is one of the two candidates running.
Ms Anderson said she aims to fill the seat her late father Phillip Anderson held, saying a "major motivator for me running for this post is a strong desire to fulfill my father's dream."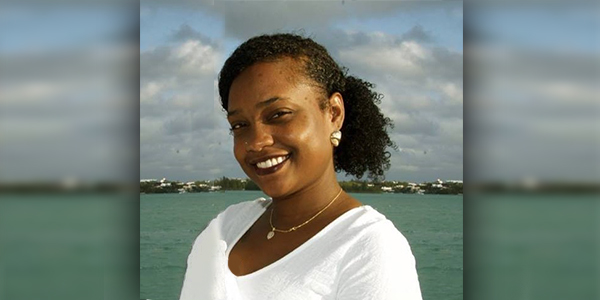 Ms Anderson said, "I am a born and bred St.Georgian coming from a family with deep St.George's roots. My father, Phillip Anderson, became the Councillor for the Town of St. George in 2012. My aim is to fill the seat he occupied from his election in 2012 until his sudden and untimely death on December 9th, 2018.
"Not only has St. George's always been my home, I am an active community member and have a vested interest in the town. I own property within the municipality, I am a mother raising children who attend school in the town and I am an entrepreneur, with a business based in St.George's.
She attended St. George's Preparatory School, Clearwater Middle School, and CedarBridge Academy before furthering her education at  Johnson & Wales University in Rhode Island, graduating with a Bachelors degree in Software Engineering with Honors in 2010.
When asked why she decided to run, Ms. Anderson replied, "I grew up in this town. The St.George's community has shaped me into the individual that I am today, for this reason I believe that it is my duty to serve St.George's and her people in this capacity.
"With the knowledge I've gained throughout my career and educational endeavors, in addition to the wisdom passed down from my  father, I plan to bring fresh ideas to help advance our town.  Of course a major motivator for me running for this post is a strong desire to fulfill my father's dream. He instilled a responsibility in me to this town and spoke highly of what, not only, St. George's is but what it can be.
"This is a responsibility that I have never felt more compelled to uphold than I do today. My hope is that the people of St.George's allow me to serve them in this capacity. This is my dream and a new goal I've set before myself."
"I hope to inspire other young people to get involved in our community. Leveraging the talents of our young people is how we ensure the future progression of St.George's.
"This is something I hope I can spearhead if given the opportunity to sit in the role as Councillor for the Corporation of St.George's. Encouraging more young people to get involved in our town and take pride in our community is one of my biggest goals regardless of election.
"In addition to my plans to improve our tourists' experience in St.George's and bolster the introduction of new businesses to the town, I'd like to tackle the issues that matter most to the residents.
"Some of these include the lack of resident parking for those who live on York Street and Water Street, and the growing issues arising from the aging water and waste system throughout the town. These are just a few of the many issues I'd like to undertake if I succeed in my candidacy."

The extraordinary municipal election for the Corporation of St. George is taking place today at the Penno's Wharf Cruise Ship Terminal in St. George's, with the polling station open from 8:00 a.m. – 8:00 p.m.
The Parliamentary Registrar said, "To be eligible to vote, the voter must be registered within the municipal area and bring a valid photo identification to the polling station. The use of portable electronic devices is prohibited inside the polling station."
Mayor of St George Quinell Francis previously said, "I encourage all registered voters within the Municipality to come out and vote and to be a part of the process. These are exciting times for the Corporation and the community has an important role to play in the Corporation's future success."
"I would like to thank both, Ms. Cyniqua Anderson and Mr. Mark Soares for coming forward as candidates to be part of the Corporation of St. George and wish them the best."
The results are expected to be known later this evening, and Bernews will update as able.
Read More About