The Minister of Education Diallo Rabain visited Dellwood Middle School students who were being hosted by Chubb.
The Association of Bermuda International Companies [ABIC] has been working with the middle schools to develop and deliver a curriculum on the Bermuda Economy and Careers in International Business. To support this curriculum, Chubb staff is hosting the students and sharing information about the jobs in international business.
The Minister stated, "It is a pleasure to be here today with Chubb staff and with our students. I am deeply encouraged by ABIC, the BDA, and the other Bermuda-based industry associations and global companies, for their commitment to promote careers in international business.
"As we know, the international business sector is vital to our economy. It is because of this that we welcome initiatives like today's that seek to increase awareness and access for our young people and, connect them to jobs and career paths through educational outreach, mentorship and scholarships.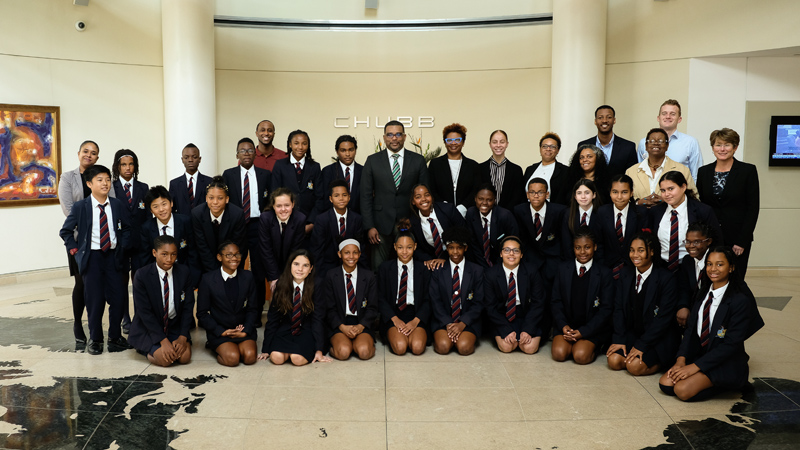 "We applaud ABIC for its many educational programmes, including enrichment of middle-school curriculum, mentorship in high-schools, work placements, and its wealth of scholarships that have provided hundreds of students with post-secondary opportunities over many decades.
"We want students to know that there are many different kinds of jobs in international business on our island. The IB sector employs close to 3,800 people—65 percent of which are Bermudians or their spouses.
"They work as accountants, actuaries, designers, underwriters, lawyers, HR and IT professionals, marketers, communication experts, and event-planners. There is not just one type of IB job; global companies on our island seek a variety of talents. So, to students, we say: get informed, get good grades, get involved in the community, apply for scholarships, and network, network, network!"
"Chubb is both pleased and honored to host students from Dellwood Middle School for International Business Week, in partnership with other industry groups," said Samantha Froud, Chief Administration Officer for Chubb's Bermuda Operations and the Scholarship Committee Chair of the ABIC Education Awards. "This high-caliber event brings vital career and business information directly to students to help them succeed in their future career aspirations and endeavors."
International Business Week is supported by Association of Bermuda International Companies, Bermuda Business Development Agency, Association of Bermuda Insurers & Reinsurers and Bermuda International Long Term Insurers and Reinsurers.
ABIC the voice of International Business represents more than 110 international companies incorporated in Bermuda.
- Photo above courtesy of Ernest McCreight

Read More About