[Written by Mikaela Ian Pearman]
Over the weekend, I was invited to sample the new Grey Goose Ducasse at Hamilton Princess and I couldn't turn that down. First off, I love me some vodka and secondly, I'm a Grey Goose girl. I had to see what the fuss was about.
Grey Goose Interpreted by Ducasse is a partnership between Grey Goose, distributed in Bermuda by Bacardi and Alain Ducasse, the famed chef. The description of the vodka is: "Grey Goose is married to an assemblage of toasted French wheat for a luxuriously complex and full-bodied taste".
It's only available in Bermuda at Hamilton Princess and my husband and I joined the hotel's sommelier Alex Taflan for the tasting at Marcus'. She explained why the vodka was such good quality [the wheat is toasted in cocoa ovens] and how excited she was that it was exclusively available at Hamilton Princess.
To kick things off, we sampled regular Grey Goose and then Grey Goose Ducasse. It has delicate aromas of brioche followed by intense notes of roasted almonds, coffee and chocolate. These notes make it perfect to combine with actual coffee. Sipping vodka from a shot glass is not my faovurite thing to do but the Ducasse was much more enjoyable than the regular Grey Goose.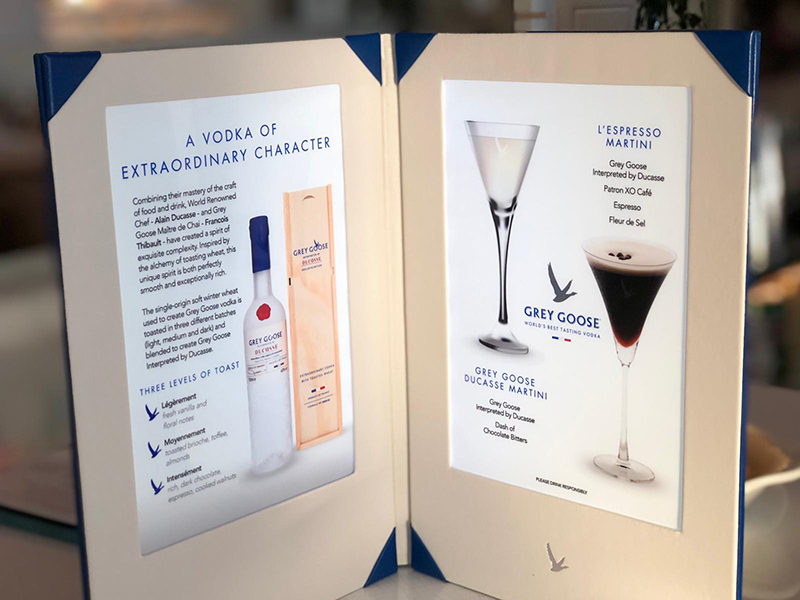 Next, it was cocktail time. Grey Goose Ducasse is offered in an amazing cocktail – L'espresso Martini. It has the vodka, patron XO Café, espresso and fleur de sel. Having drank many an espresso martini in my day, I wasn't sure how this one would be different. And then I sampled it.
Because the martini doesn't have normal ingredients for an espresso martini such as Bailey's, it was a way more sophisticated flavour.
The coffee came through and, it was like sipping a very dark chocolate drink. It wasn't sweet or creamy – just straight up simple, high-quality ingredients.
Now to make sure I was correct, I had the bartender make me a normal espresso martini to do a side by side comparison. The regular one was good, but it was much sweeter thanks to the Bailey's and the coffee taste was muddled. The L'espresso Martini was a purer, more chic drink.
If you enjoy high quality vodka and love coffee, the L'Espresso Martini is for you. The only place to enjoy it in Bermuda is at the Hamilton Princess. I highly recommend enjoying it as either a predinner drink or for a nightcap if you don't want dessert. The L'Espresso Martini is $17 at Marcus'.
Read More About
Category: All, Entertainment, News