[Written by Mikaela Ian Pearman]
Over the weekend, I was given the awesome opportunity to attend a wine pairing dinner at Marcus at the Hamilton Princess. It was an invitation I couldn't refuse considering I love to eat and I love wine.
The event was put on by Pitt & Co and featured wine from Waterford Estate in South Africa. The guest for the evening was Mark le Roux, head winemaker who won South Africa's Young Winemaker of the Year in 2017.
The evening started with a glass of Waterford's Rose-Mary Rosé, which Mark described as a white wine made from red grapes paired with Tuna Conserva, a light and fresh canape while everyone mixed and mingled.
When it was time to sit down, Neil, the wine portfolio manager of Pit & Co welcomed everyone and introduced Mark who gave us a bit of background on Waterford Estate. He called their process of making wine "The Waterford Way" and said the company uses sustainable farming to produce amazing wines.
Before the food came out, our server came over to let us know there was an entire vegetarian menu available for pairing with the wines created by Chef Danai. Having been to many wine paring dinners over the years, I've never seen a vegetarian menu in addition to the normal menu. Since I eat a pescatarian diet, this was fantastic news.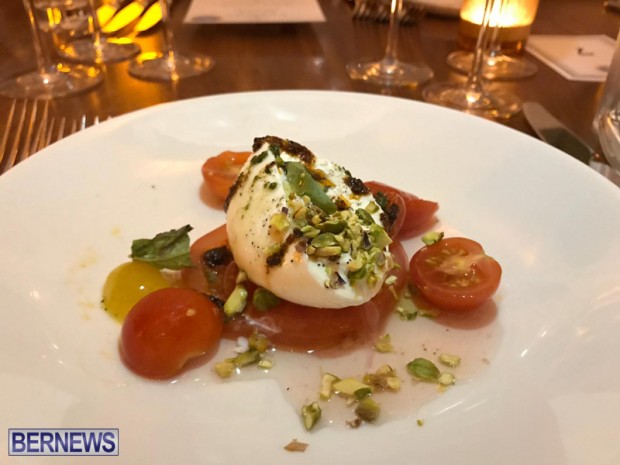 The second wine was Sauvignon Blanc paired with Tomato Burrata Salad. The wine was very earthy and my least favourite of the night. The salad, however, was wonderful. The burrata was creamy, the tomato acidic and the combination of crushed pistachios, pesto and honey drizzled on top made my mouth very happy.
Our third wine of the evening was Single Vineyard Estate Chardonnay, which is the only white varietal Waterford grows in their vineyard. I am not a chardonnay fan at all, but this was lovely.
The wine had a very fresh quality about it and wasn't as rich as chardonnay can be. It was paired with a Kale Salad with Pickled Beets, Goat Cheese and Bermuda Onion Dressing, absolutely delicious.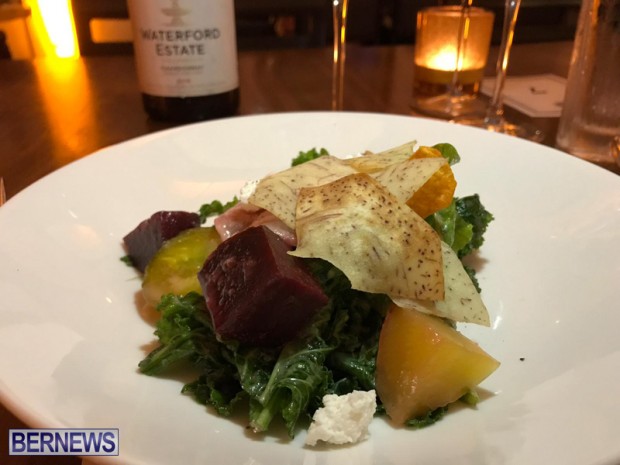 The fourth wine of the evening was Pinot Noir paired with one of the most interesting things I've eaten in a long time – Bermuda Sweet Potato Steak.
The dish was served with Ramen, Braised Cabbage and Dark Mushroom Ragu. It was salty, sweet, comforting and full of umami flavour. Definitely a homerun there. The wine paired beautifully with the dish.
For our main course, we had two glasses of wine – The Jem Blend, named after Waterford's owner and Estate Cabernet Sauvignon. The wine was served with Pumpkin Tortellini with Tucker's Goat Cheese, Sage Brown Butter and Pumpkin Seeds.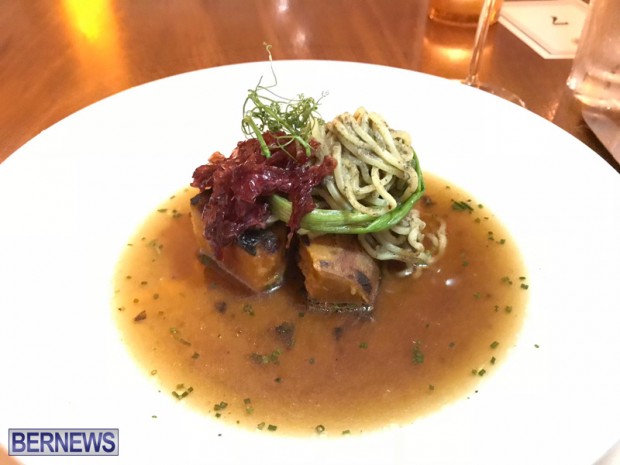 The wine was incredible. Mark explained the Cabernet Sauvignon is the largest varietal grown at Waterford and is his favourite to work with. The Jem is the signature wine and I absolutely understand why.
I love deep red wines so it was perfect and paired beautifully with the decadent tortellini. The Estate Cab Sav was also wonderful but was edged out by The Jem.
For the final course, we enjoyed Morbier Cheese with Lavash, Apple Jam and Bermuda Honey. I'm not normally into cheese for dessert, but this was a great end to a spectacular meal.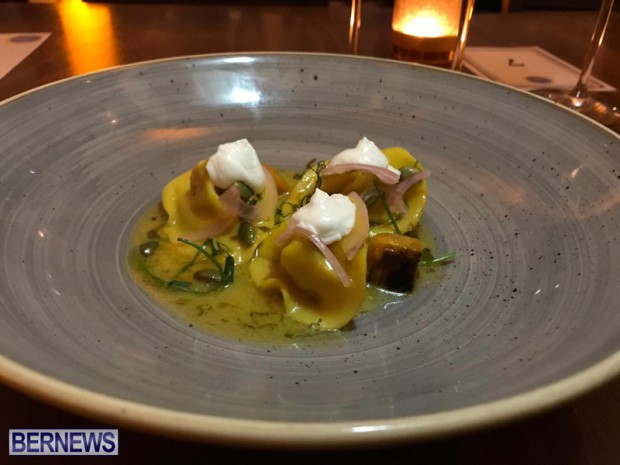 I have to say overall, this was one of the best wine pairing dinners I've been to. The food and wine were incredible. I've actually avoided them for the past couple of years because I no longer eat meat.
It was refreshing to be able to attend a wine pairing dinner and not have to skip courses or nibble on sides. Thank you Chef Danai for being so accommodating.

Read More About
Category: All, Entertainment, News