L. Francis Productions is getting set to present a stage play titled "Angels In Black" on Sunday, December 8 at 6.30pm at the Heritage Worship Center.
Admission is $35 for patrons, $20 for general admission, and $15 for children.
A spokesperson said, "L. Francis Productions Presents 'Angels in Black,' a hilarious stage play for the entire family.
"The inept Angels in Black are sent on an important assignment.
"Question: does the church still celebrate the Christ of Christmas?"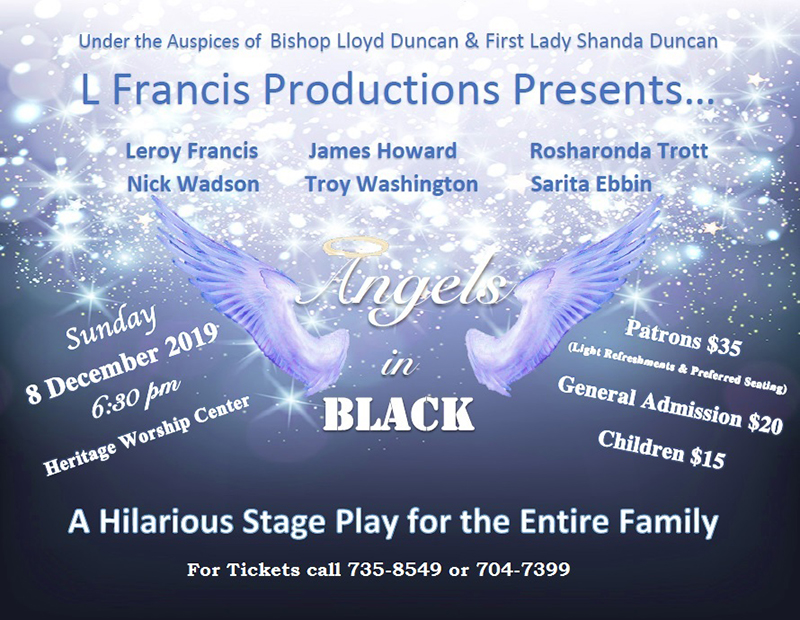 "After making a crash landing on Earth, they set out to find some true Christians.
"With a plan based on their knowledge of humans, they must find a church that makes a lot of noise, then follow the loudest member home. That is a true worshiper.
"But is this the best strategy? Will these true Christians even recognize Christ if he should visit their home? An original play, written and produced by the team of Leroy, Gloria, and Alisha Francis.
Cast:
Leroy Francis – Angel E
James Howard III – Pastor Gullible
Nick Wadson – Bishop Inna Bagg
Timoris Thomas – Deacon Broadbelt
Anneka Allen – Angel T
Taylor Washington – Angel 2
Ricardo Zuill – Angel 3
Camille Peart – Sister Iva Complaint, the Praise Team Leader
Beverly Hayward – Sister Havea Storrie
Sarita Ebbin – Evangelist Speaksin Tongs
Troy Washington Sr. – Jesus in Disguise
Tourean Thomas – Deacon Drinkwater
Rosharonda Trott – Head Angel
"Please contact Gloria Francis on 735-8549 for further information."

Read More About
Category: All, Entertainment