News that the latest album from Collie Buddz is number one on the Billboard Reggae Album chart, Lindo's donated $500,000 to Friends of Hospice, Shiona Turini has been nominated for a Costume Designers Guild Award, Sueallen Lottimore and Lauren D'Amico earned IFBB pro cards and PartnerRe's 'Dollars for Hours' program donated $240,000 to local schools were all some of the positive news stories from the past week.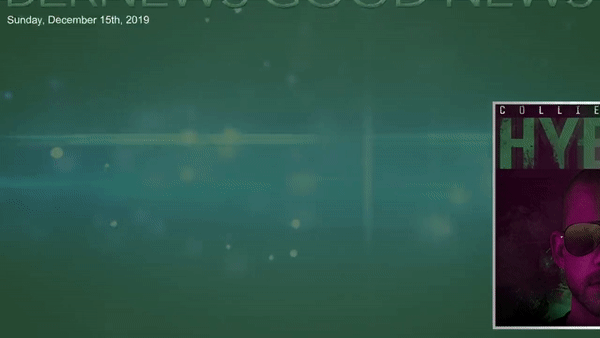 In additional good news, the National Museum of Bermuda revealed the 18 finalists of the Dr. Reg Grundy Annual Youth Photography Competition, Bermuda retained its title at the Caribbean Equestrian Association's Regional Jumping Challenge, Justin Donawa scored in a Darlington FC win, and Jonte Smith scored in a victory over Mansfield.
Other good news stories included the City of Hamilton donating $10,000 to Vision Bermuda, Marsh and Guy Carpenter colleagues donating more than 100 holiday boxes valued at approximately $10,000 to Big Brothers Big Sisters of Bermuda, local designer Jamie Madison donating to the Family Centre, Butterfield Bank sponsoring the AXA End-to-End, Elizabeth Mulderig releasing her latest children's book, and the SPCA receiving a Christmas gift from Third Point Re.
We also posted various community photo galleries, including coverage of Friendship/Shield football action, the Home-Grown Alternatives Show, the 'Dollars for Hours' endeavour donating $240,000 to local schools, the Equestrian Home Show, the Dockyard Christmas tree lighting, Fairmont Southampton's Christmas tree lighting, the annual BNT Christmas Walkabout, and the Caribbean Grand Prix Pro Fitness Show.
In an effort to highlight some of positive news happening in our community, we supplement our standard morning and evening email newsletters with a special Sunday "Good News" email newsletter edition, and also produce a highlight video and article which strictly focuses on the positive news about Bermuda and Bermudians from the past week. You can sign up to have the free newsletter delivered via email here, and/or access the links below.
In addition, for those who like positive news, please feel free to visit our sister site ForeverBermuda.com, which seeks to showcase uplifting Bermuda news and visitor related services, or BermudaCovers.com, which offers an array of free Facebook and social media cover images, graphic designs and videos to assist you in showing off your Bermudian pride on social media!
Links to some of the 'good news' from the past week are below:

Read More About