David Wingate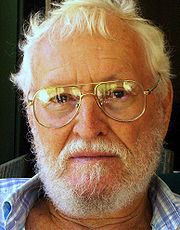 Dr David Balcombe Wingate OBE, is a well known ornithologist, naturalist and conservationist.
Born October 11, 1935 in Bermuda, he studied Zoology at Cornell University and went on to become the Conservation Officer for the Bermuda Government Parks Department from 1966 to his retirement in 2000.
He was credited with rediscovering the Black-capped Petrel in Haiti in 1963.
He is best known locally for the work he has done on Nonsuch Island, a limited access wildlife sanctuary in Bermuda. The restoration of the once barren island into a 'Living Museum of pre-colonial Bermuda' is Dr. Wingate's lifetime work, and part of his effort to bring back from near-extinction Bermuda's national bird, the Cahow.
Dr. Wingate appeared in "Rare Bird', a documentary by Lucinda Spurling about the rediscovery of the cahow. Watch a clip:
-
He was a founding member of the Bermuda Audubon Society and the Bermuda National Trust. He also served on the board of the Bermuda Biological Station for Research, and as a research associate of the Bermuda Zoological Society.
He has been honoured with a number of awards including
Queen's Honours (UK), the MBE and OBE
King's Honours (Netherlands), Ridder, Order of the Golden Ark
Global 500 Award (UN)
Dr.of Sci. Honoris causa, Clark University, Massachusetts.
A 9 page report written by Dr. Wingate entitled 'Strategies for successful biodiversity conservation and restoration on small oceanic islands: some examples from Bermuda' is available here in PDF format.
Courtesy of the Bermuda Yellow Pages, a video about Nonsuch Island:

-
Photos of Nonsuch Island, Dr. Wingate's lifework

-