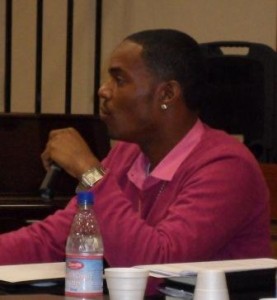 One of Bermuda's top lawyers found himself on the other side of the court yesterday.
Defence lawyer Charles Richardson yesterday pleaded guilty in Magistrates Court, admitting possession of cannabis. He was handed a three year conditional discharge in court, and will not have a conviction recorded against him as long as he abides by the court's conditions, which includes random drug testing.
8.2 grams of cannabis was found at his Smiths Parish residence in August 11 2009. The Police were executing a search warrant based on a tip, and found the cannabis, resin as well as "rizla" [rolling papers]. Mr Richardson has denied that the drugs were for his personal use, saying he was aware that it was in the house but that it belonged to a house guest.
The 38 year old lawyer is famous for 'turning his life around' after being jailed in 1995 for his part in the Spinning Wheel nightclub shooting. He was convicted and jailed for a number of years, during which he went on to obtain his legal education behind bars studying via correspondence. He was called to the bar in 2005, and was soon considered one of Bermuda's top defense lawyers.
The video below is from the Legacy of Racism Seminar, and shows Mr. Richardson speaking about his past criminal activities, as well as the social problems of Bermuda today:
Read More About
Category: All, Court Reports, Crime, News