At 2am this morning [Aug 24] a 42-year-old man driving an Air Care van lost control and drove over an embankment on Middle Road Southampton in the area of Five Star Island, and despite crashing down a drop exceeding 20-feet the Police confirm that he escaped serious injury.
Update 2:30pm: Island Construction will be in the area between 2:30pm and 4pm today to remove the van, and Police confirm that traffic will be diverted on the South Road, traffic traveling west will be diverted over to South Road in the area of Fairmont Southampton and all traffic coming from the West headed east, will be diverted from Middle Road to South Shore Road.
Update 3:15pm: Van is removed, and road is back open. The photo here shows it on the truck.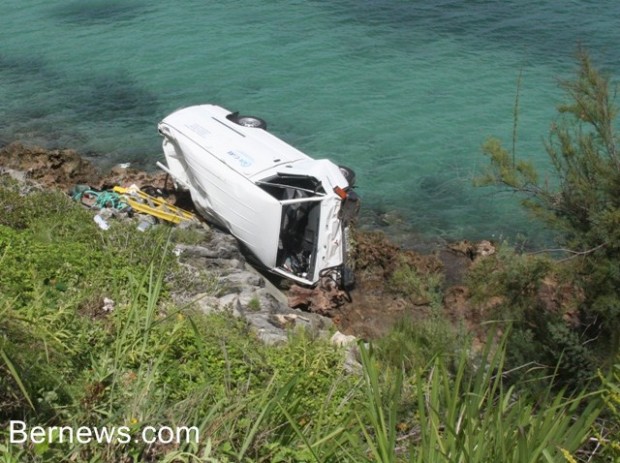 The van appears to be 20-30 feet off the road down a substantial drop, and the edge of the van appears within inches of the water, with part of the van actually hovering over the water. Small parts of the van can be seen scattered about the nearby rocks, along with paperwork and items from inside the van.
An area resident tells us that "W&E have been promising to fix this dangerous stretch of road for over 4 years", and called upon Government to fix the road "before someone does die."
Click to enlarge images:

For more photo galleries with unusual accident scenes click here.
-
Read More About
Category: Accidents and fires, Accidents/Fires, All, News, Photos