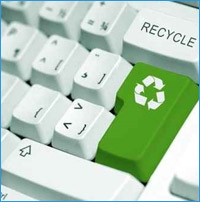 This morning [Nov 19] Neletha Butterfield, Minister of Public Information Services, spoke about the recycling program for Bermuda Government computers.
Saying "It is the Government's goal to get the maximum use and value out of its assets," the Minister said "Computers are no exception and when computers no longer meet the specific requirements of government departments, they are collected by the information technology office. They evaluate the computers to see if they will meet the needs of any other government department and where they do, they are distributed accordingly."
"Computers eventually reach a point in their life cycle where they no longer meet the business needs of the Bermuda Government," Minister Butterfield said, and further explained the ones that are "still useable are cleaned of government data" and offered to community groups. She said hundreds of computers have been donated to churches, charities and other organisations through this program.
Minister Butterfield also spoke on donating computers to schools, saying "I am pleased to say that the government computer recycling program is being expanded to encourage schools to set up home work clubs where ito will provide recycled computers for the children to work on. This will include donating the computers to not just government schools but home schools and alternative schools as well. The goal is to ensure that all children have access to computers."
Read More About
Category: All, News, technology