This afternoon [Nov 1] Minister Zane DeSilva was sworn in at Government House, taking on the position of Minister of Health which was previously held by Minister Walter Roban. Minister DeSilva was previously Minister without Portfolio under formerPremier Dr Ewart Brown.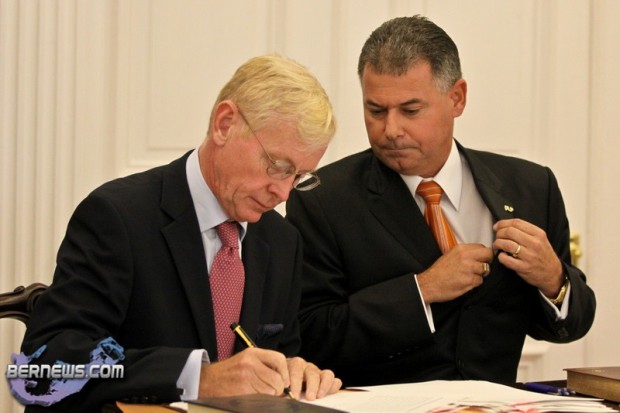 Born and raised in the west end, he attended Boaz Island Primary School, Saltus Grammar School and the Bermuda College.
Minister DeSilva, the only Cabinet Minister and PLP MP of Portuguese descent, is a successful businessman and owner of Island Construction, one of Bermuda's largest construction companies. Married with two grown children, and a grandchild on the way; Minister DeSilva's daughter Zarah is married to reggae star Collie Buddz. His family accompanied him to the swearing in ceremony today.
Minister DeSilva represents constituency #30 – Southampton East Central. He caused controversy in some circles this summer when he accused protesters at the "Save our City" rally of racism, saying "I'm tired of pleading to this segment of the white community and am convinced they will never change!"
Below Minister DeSilva is sworn in:
You can view more videos/bios of the 2010 Cabinet appointees by clicking here.
Read More About