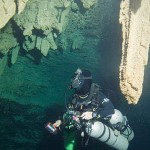 Two University of Central Florida professors are teaching classes to their Orlando students from Africa using digital and satellite technology described as "Skype on steroids" which was perfected in Bermuda two years ago.
The webcasts from South Africa and Swaziland are being broadcast using a wireless camera system developed by UCF's digital media professor Phil Peters and his company Interactive Expeditions (INTX), a mobile research lab based at the Orlando campus.
In 2008 INTX, in collaboration with Florida's Cambrian Foundation,  came to Bermuda to test its in-development webcasting technology.  The INTX system brought the beauty and mystery of the island's underwater caves to students in Florida and Texas. Students at two different science centres were able to interact in real time with divers and researchers in Bermuda.
On November 11,  UCF humanities professor Bruce Janz and anthropology professor Rosalyn Howard left for South Africa, where Janz is teaching his African Humanities course and Howard is teaching her African Societies & Cultures course.
The overseas portions of the courses are being taught through a series of 90-minute live webcasts using wireless cameras to feed video to a video mixer. This allows the professors to introduce the video clips, slides and other media to the students via satellite.
Professor Howard first saw the potential for this technology during a trip to Bermuda in the summer of 2008 when Phil Peters was on his cave-diving and conservation trip here. Peters invited Howard to see the work he was doing with this technology.
"I was totally fascinated by what they were doing," said Howard. She said that, as a cultural anthropologist, the possibility for her to be able to have contact with people in rural locations and urban locations at the same time and to be able to broadcast the interactions in real-time would serve as a great learning tool.
Read More About
Category: All, Environment, News, technology