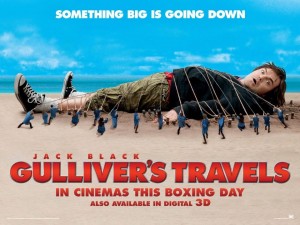 Humour disappears without a trace in the Bermuda Triangle in comedian Jack Black's big-budget movie reimagining of Jonathan Swift's classic  "Gulliver's Travels".
The much-hyped Christmas release — in which aspiring travel writer Gulliver is sent on assignment to Bermuda and ends up on the island of Lilliput – proved to be a major disappointment for both audiences and critics.
"Some films are phoned in," said one reviewer. "The staggeringly awful 'Gulliver's Travels' was texted."
Opening in 2,546 US and Canadian cinemas on Christmas Day, "Gulliver's Travels" placed a disappointing seventh in the weekend Top 10 box office list — grossing a diminutive $7 million: by way of comparison, the Ben Stiller/Robert DeNiro comedy "Little Fockers" came in first place at the box office this holiday weekend, making $48 million.
The pre-release buzz on the film had been largely negative — with some even criticising the producers' failure to hire actors sporting Bermudian accents for scenes supposedly set here. "That was so not a Bermudian accent," read one comment in a feedback section for the film's trailer at the "Gulliver's Travel" official website. "I'm so tired of the generic Caribbean accent – especially because Bermuda is not in the Caribbean!"
Read More About
Category: All, Entertainment, Films/Movies