Scholarships for Bermuda dance teachers to study for accreditation at American Ballet Theatre's New York studios and a $100,000 gift from one of Bermuda's most successful reinsurers were highlights of the National Dance Foundation of Bermuda's annual fundraising gala held at the Fairmont Southampton on Saturday night [Feb 19].
Pictured below are members of the Young Dancer's Programme and the Red Level of DanceBermuda 2010 performing Aurora's Friends from Act I, The Sleeping Beauty: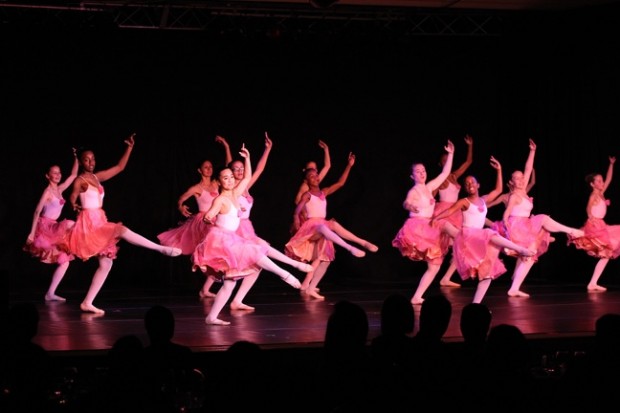 Chairman Don Kramer was caught by surprise when the black-tie evening turned out to be a surprise tribute honouring his contribution to dance in Bermuda.
"Don, you have been labouring under the illusion that this is An Evening with Don Kramer," said Foundation Vice Chairman Brian O'Hara. "But, unbeknownst to you, we have planned it as An Evening FOR Don Kramer."
The insurance industry veteran has led the National Dance Foundation for the past eight years and was recently appointed to the position of chairman of American Ballet Theatre.
In announcing scholarships for ABT's acclaimed teacher training programme, ABT Director Kevin McKenzie and Executive Director Rachel Moore [pictured below] paid tribute not only to Mr. Kramer but also to the Island's dance schools for their commitment to their students' dance education.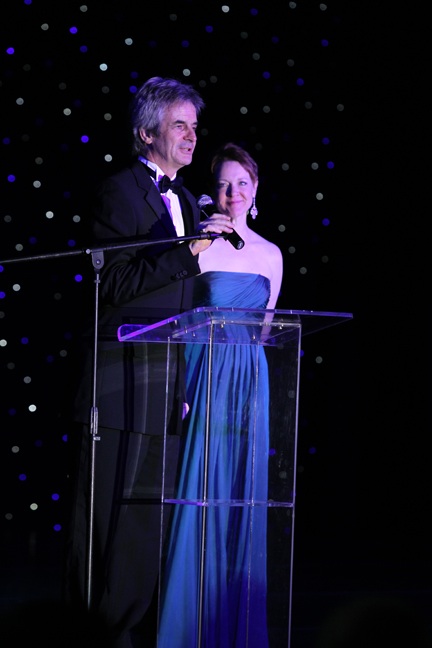 "We have had such a good relationship with Bermuda through the National Dance Foundation and are proud of DanceBermuda, the only summer dance study programme that ABT runs outside of the U.S.," said Mr. McKenzie.
"Brian Reeder, DanceBermuda's artistic director, and Mary Jo Ziesel, head of Education and Training at ABT, tell me that every year when they come back to Bermuda, they see great growth and development in the Island's dancers.
"We know this is a testament not only to the National Dance Foundation but more, importantly, to the Island's dance schools who work so hard to provide a productive learning environment for their students."
Ms Moore told the audience that ABT's teacher accreditation programme currently has over 400 graduates teaching in 47 states in the U.S. and in 13 countries.
"The fundamental notion behind this programme is that good teachers have their own voice and approach and we would like to build on those skills in a collaborative and collegial environment," said Ms Moore. "Being a teacher of excellence in the 21st century demands not only that one understands the best practices of dance pedagogy, but also of dancer health management as well.
"An added benefit of this certification is that these teachers will join a large and international community of like-minded professionals. We know how rewarding it is for teachers to engage with equally passionate professionals to exchange ideas and strategies that will ultimately move the field of dance education forward. "
Mr. Kramer was also honoured by Ariel Re, the Class 4 reinsurer that he established in 2005. He stepped down from his position as Chairman in December, 2010.
Ariel Re CEO Tom Hulst presented a check to Mr. O'Hara, who chairs the National Dance Foundation's Development Committee.
"We've been supporters of the Foundation for the last five years, not just because of Don Kramer's involvement but because we believe the organization is making a positive difference in the lives of young people in Bermuda. We're proud to give the Foundation space in our offices, and we're proud to be here tonight.
"We know that the current economy is tough on everyone, but it's particularly hard on the Island's charities. We'd like to make Mr. O'Hara's job as Development Chairman a little easier, so on behalf of Ariel Re, I am pleased to present you the National Dance Foundation with this check, representing a donation of $50,000 a year for the next two years."
Mr. Kramer was also praised by Foundation Board member and Academy Award-winning actress Catherine Zeta-Jones. Miss Zeta-Jones' videotaped message paid homage to Mr. Kramer's contributions to Bermuda's young people through his work with the National Dance Foundation.
"Don, the difference you have made in the lives of Bermuda's young people is profound. You appreciate the love they have for dance and you've led the way for the National Dance Foundation to give the Island's dancers every chance to have a world class experience.
"And now, in addition to leading the Dance Foundation, you're chairman of American Ballet Theatre. What an honour for you and for Bermuda.
"Don, I'm proud to be a member of the Board of the National Dance Foundation, proud of all that you and my fellow Board members have done for Bermuda and proud to call you not only a valued colleague but also a dear friend."
Pictured below is 'Between the Light and Me', choreographed by Emmy Award-winning choreographer Stacey Tookey for Bermuda dancers (left to right) Sierra Renae De Silva, Dominique Anderson, Alexis Richens, Krystal Smith and Fredrika Hill.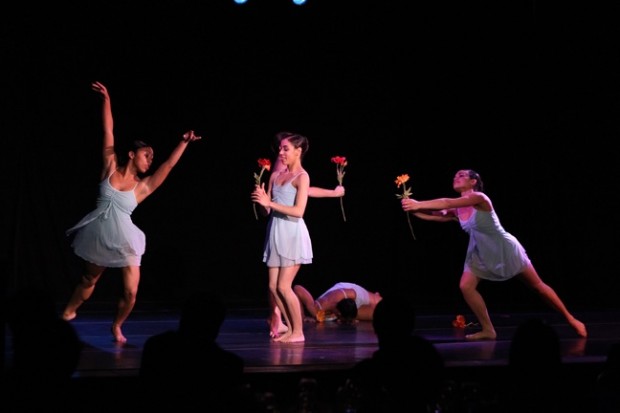 Co-producer of the hit TV series So You Think You Can Dance and American Idol Nigel Lythgoe, who hosted last year's gala, also sent in a taped message of praise for Mr. Kramer.
"Don, we know you love to perform," said Mr. Lythgoe from the set for auditions for season 8 of the Emmy Award-winning programme. " So if you're interested in coming to try out for So You Think You Can Dance, or perhaps American Idol, we'd be happy to waive the age requirement."
The surprise round of tributes were interspersed throughout an evening of entertainment that included performances by Bermuda dancers who participate in DanceBermuda, the National Dance Foundation's three week international summer intensive that is held each August. ABT soloist Misty Copeland performed Gulnare Third Act Variation from Le Corsaire and then joined her fellow ABT soloist Sascha Radetsky in Sinatra Suite which included excerpts from Twyla Tharp's hit Broadway production Come Fly Away.
The evening concluded with a tongue-in-cheek performance by six members of the Board of Directors who are all former dancers. Cathy Aicardi, Sophia Cannonier, Penny Cox, Vanessa Hardy, Sal Hodgson and Sonja Salmon danced to "One" from A Chorus Line and then hugged and did impromptu waltzes with Mr. Kramer as he came on stage to thank them.
In attendance at Saturday's event were Governor Richard and Lady Gozney, Premier Paula Cox, US Consul General Grace Shelton and Attorney General Michael Scott as well as members of the Island's international business and local business industries and Bermuda's performing arts community.
[Photos by Charles Anderson]
Read More About
Category: All, Entertainment