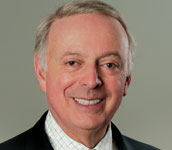 The International Insurance Society [IIS] has released its list of industry heavyweights for inclusion on the shortlist for its annual induction into the Insurance Hall of Fame and veteran Bermuda re/insurance entrepreneur Don Kramer [pictured] is one of five names on the list
With more than 44 years experience in the insurance industry, Mr. Kramer's achievements include the formation of a New York insurance exchange syndicate, founding Tempest Re in Bermuda in 1993, which was subsequently merged into Ace to form Ace Tempest Re. In 2005 he established Ariel Re, a Class 4 Bermuda reinsurer, stepping down from his position as the firm's chairman in December, 2010.
He also was the founder and chairman of NAC Re, a company subsequently acquired by XL Capital.
Mr. Kramer is also the founder of the National Dance Foundation of Bermuda and is chairman of the American Ballet Theatre.
He also serves as a co-chairman of Bermuda First, a think tank dedicated to helping Bermuda deal with strategic issues to improve the island's key business and social sectors.
Mr. Kramer has earned numerous awards, including a lifetime achievement award from the Bermuda Insurance Institute, another from insurance industry journal "Reactions" and several "Man of the Year" awards from charitable institutions that he supports.
Last year Bermudian Brian Duperreault  was inducted into the ISS Hall of Fame.
Read More About