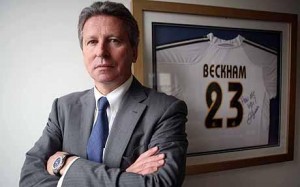 British private investment bank and stockbroker Seymour Pierce called off its planned merger with Bermuda reinsurer Gerova Financial yesterday [Feb.25] because of mounting uncertainty about the company's finances, "The Financial Times" has reported.
The British business newspaper reports  the decision earlier this month by Keith Harris [pictured], Seymour Pierce's chairman and chief executive, to postpone his previously announced appointment to serve as chairman and chief executive of Gerova signalled the UK firm was beginning to have second thoughts about the deal.
The flamboyant Mr. Harris — well-known in the UK for brokering deals involving English Premier League football clubs – had remained publicly bullish about the likelihood of the Gerova deal going ahead. But a successful completion of the merger had been in doubt ever since entrepreneur Dennis Pelino withdrew from his appointment as the Bermuda firm's new chairman just days after it had been announced as part of a board and management shake-up intended to restore investor confidence in the troubled firm.
On Friday Seymour Pierce told "The Financial Times" that "in light of recent developments it is no longer pursuing a possible transaction with Gerova Financial and has ceased all discussions with the company".
Seymour Pierce added that it will "continue to look into other expansion opportunities as they emerge". It's possible the company may independently pursue a merger with Ticonderoga Securities, a New York-based broker-dealer also set to amalgamate with Gerova. Tricondero Securities also announced yesterday it had withdrawn from talks with the Bermuda reinsurer.
Gerova stock had plummeted by more than 80 percent since January when the New York Stock Exchange suspended trading in the Bermuda company's shares.
The NYSE said it was looking into whether Gerova needed to make further financial disclosures and was evaluating the suitability for the continued listing of the shares.
The Seymour Pierce deal had been in question ever since a report by analysts Dalrymple Finance challenged the level of financial disclosure by Gerova and described the Bermuda company as "a shell game". Gerova responded by describing the Dalyrmple report as part of a "disinformation campaign" intended to drive its stock price down and hired international security consultants Kroll to probe the matter.
Documents also showed that the US Securities & Exchange Commission had questioned the asset value of Stillwater, a money management firm purchased by Gerova, but chose to take no further action.
"The merger took the UK broking industry by surprise when it was announced in December," said "The Financial Times". "It was billed as a 'combination to fuel growth by linking Gerova's capital base with Seymour Pierce and Ticonderoga's investment banking, asset management and trading expertise'.
"However, developments since then have steadily undermined rationale for the deal."
Earlier this month an Atlanta-based Gerova associate told that city's CBS affiliate he "was no Bernie Madoff" and Gerova — which operates out of offices in Cumberland House – was not an elaborate corporate Ponzi scheme.
Gerova declined to comment to "The Financial Times" about the termination of the Seymour Pierce talks.
Read More About