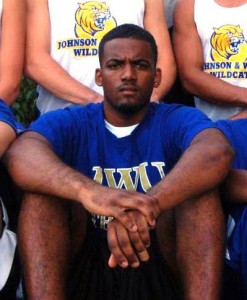 The big kites were all the talk this past weekend, and not just in Bermuda thanks to a Bermudian college student and kite maker who shared some of our traditions overseas.
21-year-old Michiko Campbell [pictured] attracted quite a bit of attention after building – and flying – two 6 foot Bermuda style kites at his Miami school.
Mr Campbell – a culinary arts student and athlete at Johnson & Wales University in Miami, Florida -has enjoyed making kites since he was a young boy.
This was his first year away from home for Good Friday, so he decided to still keep the Bermudian traditions going. Mr Campbell not only made the two 6ft kites, he also put together a Bermuda style Good Friday event complete with soca music, football and more.
The two Bermuda kites were said to fascinate some of the American students, who took turns holding a kite while it was flying overhead. Mr Campbell was complimented on his kite making skills, or as a few of them called it "his architectural and design skills."
It wasn't just the students who got a taste of Bermudian culture, as even the Dean of the University attended the event. Clearly impressed by Mr Campbell's kite, school officials at Johnson and Wales University asked him to make another 6ft kite with little flags of different countries on it for their upcoming 'World Day.'
Mr Campbell's two six foot kites are pictured below, click to enlarge
Read More About