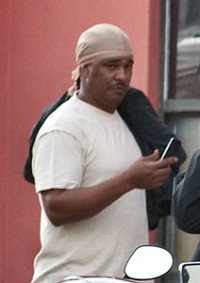 During the Supreme Court murder trial of David Cox, the jury heard that murder victim Raymond Troy "Yankee" Rawlins [pictured] was shot 16 times and rushed to hospital in a private car.
32-year-old David Jahwell Cox of Club Road, Smiths is charged with premeditated murder and using a firearm to commit an indictable offence. He denies the charges.
On August 9th 2010, 47-year-old Mr Rawlins was gunned down in the entrance of Spinning Wheel nightclub, and was pronounced dead at 1am that day.
During today's [May 25] testimony, the two man ten woman jury heard that Mr Rawlins had been shot sixteen times, that two men were thought to be involved, and that the shooting took place inside the Spinning Wheel nightclub on Court Street just before midnight on August 9, 2011.
The Prosecutor said, "During this trial you may hear about an ongoing feud between rival gangs known as 42 and Parkside. You may or may not hear that the defendant is a member of the 42 gang. You may or may not hear that Court Street is an area where Parkside hang out and frequent."
The court also heard that just before Mr Rawlins was murdered on Court Street, Julian Washington was shot at the Mid-Atlantic Boat Club in Devonshire.
The jury were shown CCTV footage showing Mr Rawlins coming through a metal detector door that was inside the Spinning Wheel nightclub.
Seconds later, two men with one in a blue jacket, dark hat, and wearing white or light-coloured gloves, came through the same metal detector and one man, wielding a a handgun, started shooting at Mr Rawlins. Captured on CCTV, the shooting continued after Mr Rawlins had fallen and was lying on the ground. The attackers then fled into a waiting car.
The jury also heard from a witness who shortly after the shooting gave eyewitness evidence to the Police and who, in his Police statement was said, by Mr Cox's lawyer, QC John Perry, to have told the Police that he was inside the nightclub and within "two arm's lengths" of the incident.
The Jury also heard from a Crown witness who told of seeing Mr Rawlins on Court Street outside the nightclub and then hearing what sounded like shots coming from within the nightclub. His evidence was that he sped off south in his car but on Dundonald Street turned around and drove back on to Court Street where he was accosted and asked to help. He again turned his car around and came back to the nightclub area where some people brought Mr Rawlins out and put him in the back seat of his car.
With two other passengers as well, the witness said that he then drove to the hospital. He said that during the dearly part of the drive to KEMH, he could hear moaning from Mr Rawlins but that this had stopped before reaching the hospital. He described the other two passengers as talking to Mr Rawlins while he was still moaning, and then shouting to him after he had stopped.
Evidence from the Emergency Room receiving doctor was that at thirty-five minutes past midnight on the night of 9th/10th August, she had found no pulse but had started CPR and other measures which she had continued for 35 minutes. However these resuscitation measures had not worked. Just past 1am on 10th August 2010, Mr Rawlins was pronounced dead.
Mr Rawlin's mother said in a read-in statement that on that night she received a call from her son's girlfriend who said that he was dead, and she immediately went to the hospital.
The case is expected to last 2-3 weeks….
Read More About
Category: All, Court Reports, Crime