[Updated] Tune in below to watch the One Bermuda Alliance [OBA] Town Hall, which is being held this evening [Aug.11] at St. Mary's Church Hall in Warwick.
The panelists are OBA MPs Bob Richards, Patricia Gordon-Pamplin, Dr. Grant Gibbons and Senator Craig Cannonier and they are discussing "the OBA's plans to grow jobs, reduce debt and make the economy work better for all Bermudians."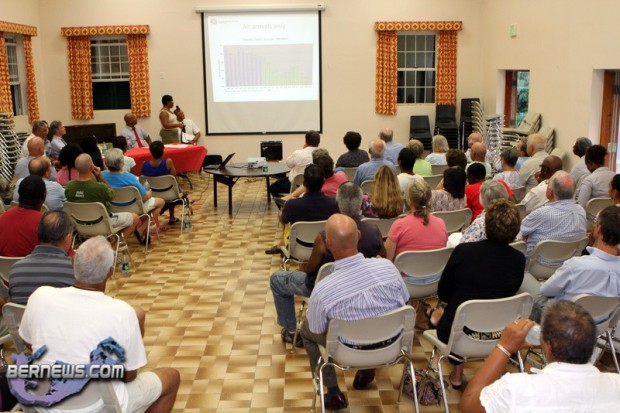 Update 9:14pm: The Town Hall has ended, and you can view the 90 minute replay below. The bottom bar can be used to fast forward.
Update 11:30pm: The slides that Mr Richards' used in his presentation are below, click arrow to move to next slide, and click bottom right corner icon to view in full screen:
Update 11:00pm: Quotes from Bob Richards, who spoke mostly on the economy:
The overspending started long before the global recession. This is what happens when you are a cog in the wheel, instead of behind the wheel and in control.
The PLP has done terrible damage to the economic fortunes of Bermuda, they have spent us into debtors' prison. And that has the potential to encumber our ability for generations to come, and that took six years of spending.
Alot of this money was spent on themselves and their friends.
The big decision for people in Bermuda is do we want to leave this economy in the hands of the people who have taken it to the brink of disaster, or do we want to put it in safer hands…
We would cut consultants by a huge amount and we would also cut frequent and lavish travel that has been engaged in by Government Ministers and senior civil servants. No more shuttle launches.
We would reduce the pay of Cabinet Ministers by at least 10%. You all know this, but leaders must lead by example.
Our national confidence and optimism, which I think is a natural Bermudian attribute, has been dented by a series of blunders by this Government. I have never been around Bermuda and seen Bermudians so low, I am talking about spirit, so dejected. Ask young people in Bermuda about the future, they are so pessimistic.
Update 11:30pm: Quotes from Pat Gordon-Pamplin, who spoke mostly on tourism:
We have to push for pride in the hospitality industry through attitudes and training. Very, very crucial. The planning department must fast track some of these applications, the red tape…that is the barrier to success and development – its been the bane of our existence in terms of developing new hotel properties and the like .
We cannot assume that the world wide recession is our enemy, when we have failed to effectively spend the money we have in our own kitty to get the best bang for the buck.
We cannot continue capital spending where we get 1 for the price of 2, and then we wonder how can we or our great-grandchildren will fund a $1.1+ billion debt
When we do have the opportunity to see a major construction project progress, it is important to insist on Bermudian labour with a major construction project. We want to see our people being put to work.
The game changer we need is a change from a PLP government to an OBA government.
Update 6:30am: Quotes from Senator Craig Cannonier:
Do you know we have people who are not able to feed themselves in Bermuda? I don't care if you are from St Davids, Somerset, South Shore, North Shore we are all consistently worried
We need to find a way to motivate ourselves to say 'I am not going to wait for Bob to show me a slide,' I am going to get off my behind and do something about the situation
I was on a panel with Senator Burt last year and this is what he said everytime I brought up all of the inconsistencies of what has taken place with the PLP, he said 'Brother at the end of the day the voter will decide.' I am going to say it again…at the end of the day the voter will decide.
The PLP are going to spin things all kind of ways
They are talking about an economic downturn, let me put it real for you – it is a crisis that we are in. We are in debt, we do not have enough money to pay our bills, not even close. And then when I hear a politician say 'well its an investment' – are you listening to what they said to you?
Update 9:00am: Senator Dr Kathy Michelmore speaking on the cost of healthcare:
Ultimately what needs to happen is we need to have a healthier population, to promote a healthy lifestyle and exercise especially in children – the next generation coming through – to prevent diabetes in particular.

We need to control the costs of overseas health care spending, its one of our major expenditures, we need to control that by regulation. People may not like that idea but it is going to have to happen. We need to look at what we can provide on island to make things more affordable.
Read More About