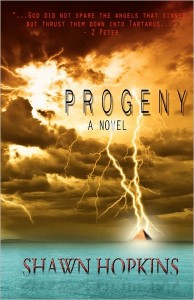 Mark Twain famously said others could go to heaven if they wanted — he was happy to stay right here in Bermuda.
But in a new supernatural thriller by American author Shawn Hopkins, the island proves to be anything other than an earthly paradise: in fact, Bermuda is a portal to hell.
In "Progeny" — published in June and available in both paperback and ebook editions — protagonist John Carter launches a hunt for his estranged brother, Henry, who has gone missing after sailing to Bermuda in search of a mysterious author. The author's writings deal with the esoteric traditions of past ages — a subject Henry had recently become obsessed with.
Reluctantly, John agrees to join Henry's old Special Forces Teammates on a mission to discover the truth behind Henry's strange disappearance.
But upon arriving in Bermuda, John quickly learns that all is not as it seems — webs of secrets ultimately leading him to personal revelations of his own and the realisation that what is happening might actually be more about him than about his missing brother.
The evil that awaits John on the other end of the short flight to Bermuda is more sinister than anything he's ever witnessed. Not even his own disturbing past can compare to the ancient fingers that are drawing him into another world … a world where all hell is trying to break loose around him.
"Progeny" has received positive reviews and is enjoying good on-line word of mouth among readers, with one fan writing: "For the life of me, I cannot coherently explain why I couldn't put this book down — but I couldn't.
"I don't know quite how to describe it — except to say picture 'Ghostbusters' in the Bermuda Triangle without the comedy: and throw in a dash of 'Dogma' and '2012′ …"
Shawn Hopkins lives in Pennsylvania with his wife and two daughters. He holds a degree in theology as well as a degree in Biblical Studies and ministry training.
"Progeny" is available at Amazon.com and the Barnes & Noble website.
Read More About
Category: All, Entertainment