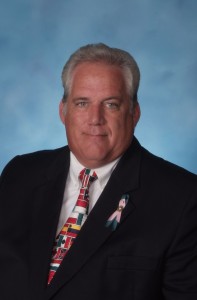 The Independent candidate in the forthcoming Devonshire South Central Parliamentary by-election says he is contesting the seat because he refuses to "shut up and fall into line" with the new One Bermuda Alliance.
David Sullivan [pictured], a long-time United Bermuda Party member and official, told Bernews he decided not to run under his former party's banner because it is effectively defunct — although he added he "respected" its two remaining Members of Parliament, Kim and Charles Swan, for refusing to shift allegiances to the OBA.
Mr. Sullivan accused the OBA of engaging in "boogey-man politics," and said if he takes any votes from the PLP, its not for the PLP to win, but as the constituents may not want the PLP or OBA candidates, preferring someone who lives in the area.
"Let's talk a moment if we can about Independent candidates," he told Bernews. "I know parties particularly don't care for them because they are not able to be controlled, they won't toe the party line, they won't do as they're told …"
But he pointed out Independent Senators in the Upper House had repeatedly demonstrated the worth of non-partisan politicians by joining with the Opposition to defeat ill-considered Government legislation under both UBP and PLP administrations.
Longtime Devonshire resident Mr. Sullivan added that neither OBA candidate Craig Cannonier nor Progressive Labour Party hopeful Anthony Richardson were familiar with the constituency, suggesting voters might be more comfortable with a familiar local figure rather than newcomers.
Education, the economy and crime and associated socio-economic issues are the key items on Mr. Sullivan's plaform, with the candidate arguing that the failure of schools to prepare students for jobs in leading industries had marginalised generations of young Bermudians who subsequently drifted into anti-social activities.
To be held on November 1, the by-election was called due to the resignation of John Barritt, who had promised to step down if the newly elected OBA leader was not an elected MP.
On September 10 Senator Craig Cannonier was elected the new OBA Leader, and on September 15 Mr Barritt submitted his resignations as Devonshire South Central MP and Leader of the Opposition.
Mr. Barritt has held the seat for 18 years, winning a large percentage of the vote in the four general elections he contested. In 2007 election, Mr Barritt received 85% of the vote [723 to 122] against the PLP's Linda Merritt. In 2003, Mr Barritt garnered 90% of the vote [747 to 83] against the PLP's Dorothy Burch.
No Independent candidate has been elected to the House of Assembly since environmental activist Stuart Hayward represented the old Pembroke West Central constituency for a single term between 1989 and 1994.
Bernews interview with David Sullivan:
Read More About