For Bermuda painter Vernon Clarke art, like music, is about finding the perfect mix of melody and rhythm.
And the works he is exhibiting in the current Hamilton group show "Rhythmic Movements" are conscious efforts to fuse his brushwork to the sounds which have most influenced him.
"I have been using the inspiration of music and dance for many years as it was such a huge influence on my younger social life," he said.
One of Mr. Clarke's paintings, some of which draw heavily on the chiaroscuro effect of contrasting light and shadows, celebrates the music and legacy jazz of legend Billie Holliday [1915-1959].
Vernon Clarke's "Ode To Billie" From The "Rhythmic Movements" Exhibit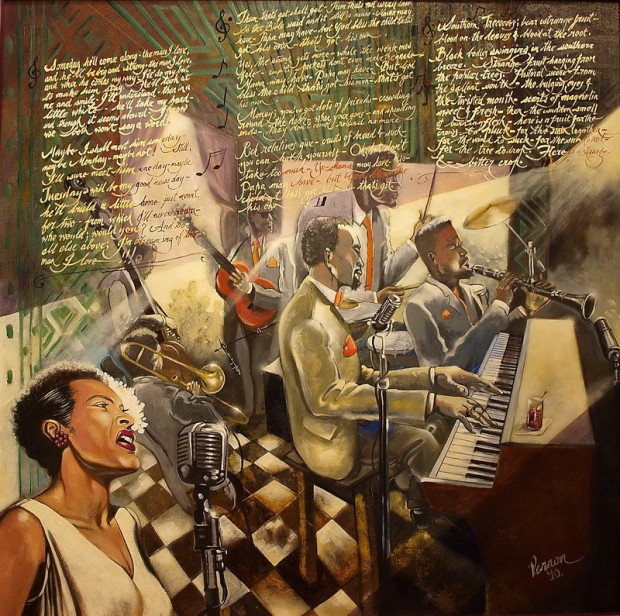 "The life of Billie Holiday reads like a Greek tragedy which finds itself on a very modern stage," he said. "Her dark days are given light here with her hot lyrics spelling out the tragic-drama of betrayal, marginalisation and the social poverty of racial violence."
The show, curated by Susan A. Pearson of Select Palette Art, is being held at Common Ground , 11 Chancery Lane. It closes today.
"Rhythmic Movements" features oils on canvas by Mr. Clarke; silk screens and mixed media by Ami Zanders; photography by Charles Anderson; charcoals and acrylics on masonite boards and canvas by Edwin M.E. Smith; acrylic on wood by Graham Foster; cedar sculpture by Milton Hill; urban pen prints by Sara Simons; and papier scherenscnit by Susan A. Pearson.
Read More About
Category: All, Entertainment