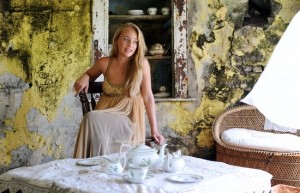 She says she wants a revolution — at least in terms of the musical arrangement of one of John Lennon's classic songs.
Bermudian songbird Bailey Outerbridge [pictured] has just finished a version of the Beatles track "Revolution" for the forthcoming John Lennon tribute CD being launched to mark the late singer/songwriter's 1980 creative renaissance on the island.
"The production of 'Revolution' is different than that of the Beatles' original — a song written by John Lennon — in the sense that it caters to the sonic quality and flavour that today's young listeners are accustomed to with performers like Sara Bareleis and Jack Johnson," said Tony Brannon of the Ride The Wave charitable group.
"At the same time it stays true to the source capturing some of the ingenious instrumental hooks from the original version with guitar sound that are similar yet richer and on the cutting edge of what one might hear in today's pop music."
"Revolution" By The Beatles
Ride The Wave is producing the tribute album which is to be released in conjunction with the unveiling of a sculpture commemorating Mr. Lennon's time on the island at the Masterworks Museum of Bermuda Arts' Botanical Gardens gallery in June.
The CD will feature a combination of Bermudian artists and international performers with local ties covering some of Mr. Lennon's most celebrated Beatles' and solo material.
Teenager Bailey recorded her version of "Revolution" in the US with professional musicians including acclaimed Israeli guitarist Oz Noy and drummer Tal Bergman who has toured and recorded with some of the biggest names in show business, including Billy Idol, Rod Stewart, Chaka Khan, Loreena McKennitt, Simple Minds, LL Cool J, Joe Zawinul, Eric Johnson and Terrence Trent Darby.
The production of "Revolution" was supervised by Haim Cotton and Jan Roeg with Mr. Cotton also handling the arrangement and playing keyboards on the track. The song was mixed by Elliot Scheiner.
Mr. Cotton was musical director for acclaimed Israeli singer Ofra Haza — whose work fused pop, folk and dance music — and he appeared with her on "The Tonight Show" and in festivals around the world, including the Matreux Jazz Festival.
Ms Roeg has worked in the music industry for almost 25 years in various prestigious capacities and enjoyed a long working relationship with Atlantic Records founder Ahmet Ertegun.
Last year Bailey released a hugely popular on-line music video shot in Bermuda to accompany her original song "Circus."
"Circus" By Bailey Outerbridge
Read More About
Category: All, Entertainment, Music