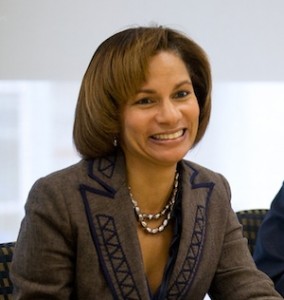 Business Bermuda kicked off its 2012 Personal Empowerment Seminar Series yesterday [Jan. 12] with "Think Education Ends With a Degree: The Value of Lifelong Learning" presented by Dr. Janet Ferguson, executive director of the Seniors' Learning Centre at Bermuda College.
Twenty-six people participated as Dr. Ferguson explained the value of traditional educational experiences juxtaposed with the skills learned through life experience. According to Dr. Ferguson, "We need to be able to read the environment that we are in and respond to it and effectively readjust…Part of learning and development is learning how to live with and manage uncertainty."
These are the skills that aren't taught in University but are essential to being successful in today's work environment.
"Today's seminar was enlightening. It provided insight as to the challenges that we are all facing as well as steps to overcome these challenges," said Amoti Nyabongo, an attendee at the seminar. He continued, "The presentation made a significant emotional impact as it encouraged people to think proactively about where they need to be in life instead of just being along for the ride. Dr. Ferguson reminded us that once we get over our fears we can figure out what we really want out of life."
Another attendee had this to say, "Dr. Ferguson's presentation was excellent, insightful and stimulating. I wish we had more time to explore further however do understand these seminars are intended for "lunch sessions" which makes it convenient to attend."
"Business Bermuda's Local Awareness Committee has done an excellent job of following the very popular 2011 luncheon seminar series with a more impressive line up of topics and speakers for 2012," said Cheryl Packwood [pictured], CEO of Business Bermuda. "From professors to business executives, 2012′s seminars promise to be exciting and informative and, as always, complementary for anyone who chooses to attend."
February 16th brings the greatly anticipated second part of Bermuda historian Dr. Clarence Maxwell's presentation on "The Contradictory Lives of Enslaved Black Capitalists of the 1600-1700s". In recognition of Black History Month, Dr. Maxwell will continue to explore the dual lives many entrepreneurial slaves led.
Other upcoming seminars include: "Financial Wellness: Practical Advice For Weathering A Recession" to be presented by Paula Marshall, Senior Business Development Manager at HSBC on March 1; "Investing for Retirement: The Importance of Understanding Your Pension Plan" to be presented by James Leman, vice president of Group Employee Benefits at Freisenbruch-Meyer Group on April 12; "What You Don't See Might Hurt You: That's Why There's Insurance — Property, Life and Health" to be presented by BF&M Insurance on May 10; and "I've Got the Job; Now What?: Personal Sustainability In The Global Economy" to be presented by Cordell Riley, managing director of Profiles Bermuda on June 7.
As spaces tend to fill quickly, Business Bermuda strongly encourages anyone interested to register ahead of time. For more information or to register, visit www.businessbermuda.org/seminars, email Carmen@businessbermuda.org, or call Business Bermuda's office at 292-0632.
Business Bermuda is a business organization of Bermuda resident service providers that provide quality banking, legal, accounting, re/insurance, financial, trust, management and e-commerce services and products to the international client.
The organisation works with the private sector and Government to develop and promote the island as one of the world's foremost centres for international business.
Read More About