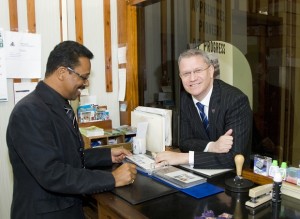 British Parliamentarian Andrew Rosindell this week called for Bermuda and the UK's other remaining Overseas Territories and Crown Dependencies to be represented in London's House of Commons.
In a submission to the UK Parliament's Backbench Business Committee on Tuesday [Jan.10], Mr. Rosindell — who visited Bermuda last year — said Britain was out of step with other countries in terms of granting their dependencies direct political representation [the British MP is pictured here with Stanley Taylor, coordinator of Bermuda's Philatelic Bureau, during a visit to the General Post Office in Hamilton].
Mr. Rosindell  chairs the UK's All-Party Parliamentary Group on the British Overseas Territories.
The Backbench Business Committee meets weekly to hear representations from MPs for House of Commons debates in backbench time.
"The United Kingdom — our Government, our Parliament — ultimately governs 21 territories around the world, but those territories have no voice in this Parliament, they elect no representatives and have no representation, unlike former colonies and territories of other countries, such as Australia, Denmark, France and the Netherlands, which have external territories committees to which representatives are elected," Mr. Rosindell told the committee.
"We give our 21 territories nothing. All they have is an informal all-party group, of which I am proud to be chairman. We have a democratic hole, with hundreds of thousands of people for whom we make laws, whom we ultimately govern and on whose behalf we can declare war, make foreign policy and sign international treaties. We have substantial control over their domestic affairs. Those territories that have sterling are bound by much of our own economic policy. In a range of areas, although the Crown dependencies and Overseas Territories are not part of the UK they are substantially influenced and ultimately governed by this Parliament, so it is wrong for them to have no voice at all."
Conservative backbencher Mr. Rossindell said the UK's 14 Overseas Territories — which include Bermuda, the Falkland Islands and the Turks & Caicos Islands — and seven Crown Dependencies — such as the Channel Islands and the Isle of Man — had effectively been rendered voiceless in London.
"There should be a debate on a whole load of issues relating to our Territories and Dependencies," he said. "I am very relaxed about when that debate is. It does not need to be immediately. There is no imperative that it should be held this month or next month, but I hope it will be held at some point this year. It is an appropriate year, the year of the Queen's Diamond Jubilee, where we can talk about our territories and dependencies. Also, it is the 30th anniversary of the liberation of the Falkland Islands.
"Perhaps it is an appropriate time to establish the principle that at the very least the UK Parliament gives recognition to our Territories and Dependencies, and that we actually want to debate subjects that affect them, so that is why I have put in for this debate.
"I have been an MP for 11 years and I do not think there has been an actual debate on territories and dependencies, except when the British Overseas Territories Bill was introduced by the previous Government in 2001-02. There needs to be a similar kind of annual debate such as we have on Scotland and Wales. Our 21 territories deserve to be given that kind of recognition, and I hope the Committee will give that due consideration."
Mr. Rosindell came under fire from former Minister of National Security Lt. Col. David Burch for comments he made following his visit here, including his desire to see Britain's Union Jack flying alongside the Bermuda flag.
The British MP later hit back,  saying he was a "friend of Bermuda" and describing the then "Minister's aggressive outburst" as "unfortunate."
Lt. Col. David Burch had described Mr. Rosindell's remarks about Bermuda as "disrespectful", "out of order" and "a breach of every solitary protocol that exists across the planet."
Read More About