The Art Centre at Dockyard are hosting a unique art exhibit on March 10. Dubbed "Living Art", the show — which takes place at the New Washington Mall behind the Beluga bar — features the human body as a canvas.
Various "canvases, or works of art" will be featured including tattoos, body painting, extreme hair styles, jewellery, fashion and various live performances.
Organiser and volunteer, Tricia Walters says the fundraiser is important for the Art Centre, which like many other charities in Bermuda, is feeling the current economic pinch.
"We wanted to come up with something that's never been done before, something that would definitely draw a crowd. With Living Art I think we'll achieve that," she said.
Bermudian tattoo artist, Lee Eastmond will be doing an actual tattoo at the event, while various members of the public will model their own works of art in the form of tattoos.
"There won't be a stage as such. We want models and guests to mingle and talk about the inspiration behind their work," Mrs. Walters explains. "The same goes for the body painting. We want the public to see the process and talk to the artists who will be painting our models, or should I say our 'reluctant' volunteers."
To help the models retain a certain amount of privacy, masks have been designed by artist Summer Wood. These, along with various other items, will be auctioned off later in the evening to raise further funds for the Art Centre.
Artists who will be participating in the body painting include Rhona Emmerson, Vanessa Richmond and Calix Smith.
Meanwhile fashion guru Amethyst has stepped up to showcase some new designs at the event, which starts at 6.30 pm.
"We were extremely pleased that Amethyst, along with Rene Hill and hopefully a few other fashion desingers, eagerly agreed to participate," she adds.
Amathyst will also be featuring jewellery, along with well-known jewellery designer Alexandrra Mosher.
Meanwhile a handful of local artists including Emma Ingham and Mrs. Walters, will be painting at the event, which even features unique cake decorating and models showing off their extreme hair styles.
"Of course the evening would not be complete without live performance and Bermuda's Capoeira Camara group has agreed to perform," Mrs. Walters said. "Tiffany Paynter and Renneka Hill will also be doing short stand up impromptu performances.
For more information the Art Centre at Dockyard can be contacted at 234-2809 Tuesday to Saturday.
However, if you would like to sign up as a tattoo model, hair stylist or musician you can contact Mrs. Walters at 516-1816 before March 5.
Tickets are currently on sale from www.bermudatix.com at $25, which includes a free drink. Sponsors include "The Bermuda Sun", Goslings, Barritts, Fusion and the DNA Creative Shoppe.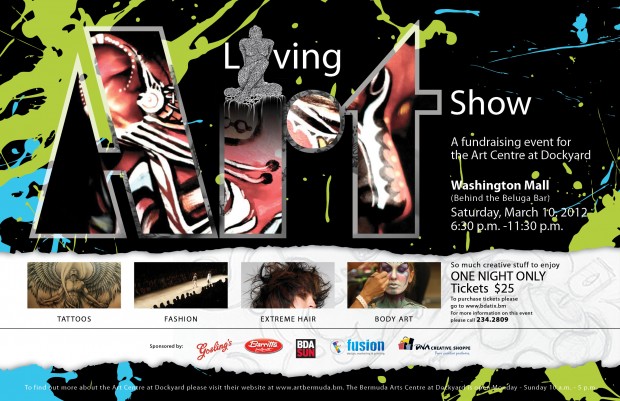 Category: All, Entertainment, Style & Beauty