This morning [Mar.12] in Supreme Court, four of the "Carefree Five" plead guilty to drug charges minutes before their trial was due to start.
Carlos Rogers, Shaun Johnson, Kinola Simons and Bilal Shakir all pleaded guilty to possessing or handling a controlled drug, however pleaded not guilty to conspiring to import a controlled drug. The fifth defendant — Kwesi Hollis — denied all the charges. The value of cannabis was $3.4 million.
File photos from their court appearance last year are below: top row left is Kwesi Hollis, with Carlos Rogers on the right. Bottom row left is Shaun Johnson, with Bilal Shakir on the right.
Mr Rogers and Mr Hollis left the Dominican Republic on December 1, 2010 on the Carefree IV yacht, and were due to arrive in Bermuda that same month.  The boat was declared missing,  however on Friday January 21, 2011 — seven weeks after leaving their destination —  the Carefree IV sailed into St George's Harbour, having been boarded by armed Police officers.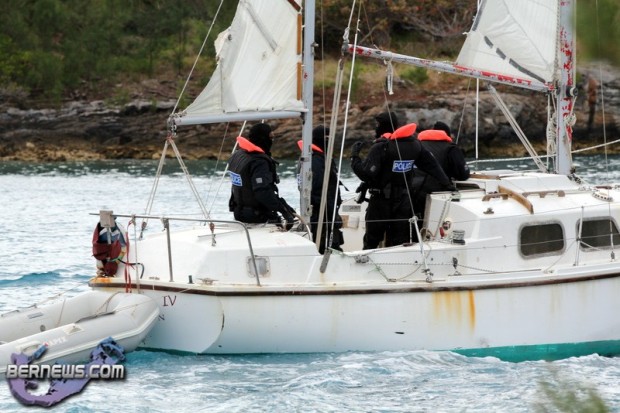 Police arrested both Mr Hollis and Mr Rogers and searched the boat before hoisting the boat ashore, and transporting it to Southside Police Station. Earlier that same morning, the Marine Police stopped a Boston whaler in the North Shore area, seized the cannabis, and arrested the other three men.
The four men who pleaded guilty this morning — Mr Rogers, Mr Johnson, Mr Shakir, and Mr Simons — were remanded in custody, while Mr Hollis was released on bail.
Read More About
Category: All, Court Reports, Crime, News