Many people, when given an audience with the Queen, might be a little intimidated but not Bermuda's Tom Wadson.
The owner of Wadson's Farm, among many other things Mr. Wadson grows Easter lilies for the Queen, the island's annual seasonal gift to Her Majesty.
"The Queen had written us a letter expressing concern about the length of the lily stems," Mr. Wadson told "The Boston Globe"  yesterday [Apr.6]
Describing the farmer as "an outspoken fellow" with the "sort with calloused hands and rugged spirit honed by almost 40 years of tilling the land in the hot Bermuda sun," the newspaper said  "Well, that year, I met her once at a formal get-together here."
Governor Sir Richard Gozney, Lady Gozney and Tom Wadson with the 2012 Easter Lilies sent to the Queen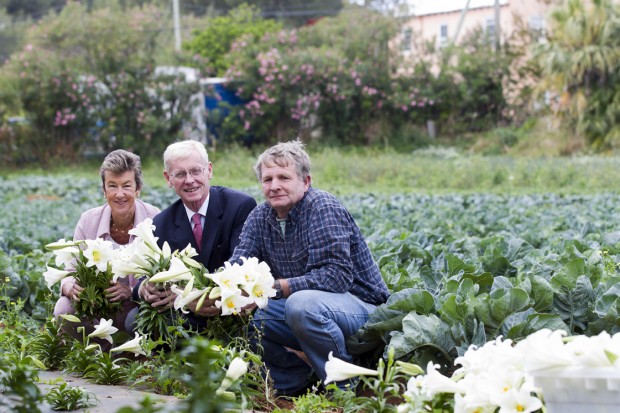 Mr. Wadson is known around Bermuda  for his busy farm and farmer's market stand but also for his playful sense of humor, straightforward and blunt
"So I told her, 'Your Majesty, we have a microscopic complaint department but just wanted you to know that your complaint stood out because it's the only one we've gotten that was handwritten'!" Mr. Wadson told the newspaper.
The Queen took it in stride, Wadson said, even smiling at the comment. And later that night, Mr. Wadson said, he went and quaffed a few brews with her husband, Prince Philip, whom he dubbed, "a good fellow, a down-to-earth sort."
Read More About
Category: All, Environment