[Updated] A cruise ship broke its moorings and there is flooding island-wide following the passing of a very active thunderstorm cell over the Island from approximately 2-3pm today [Sept 14].
The Bermuda Weather Service issued a Thunderstorm Advisory and Gale Warning valid for this afternoon, and the inclement weather has affected the island with gale force winds and heavy rain islandwide, along with flooding in various locations.
This was due to very active thunderstorm cell that passed directly over the Island from approximately 2-3pm this afternoon, the BWS said.
The heavy winds caused the Norwegian Star cruise ship in Dockyard to partially break away from the dock and two Marine & Ports boats are presently on scene assisting with the situation. We will update with additional information as able.
Update 3.01pm: Flooding is being reported at various locations island-wide. This the scene right now at Island Embroidery store on Front Street where water can be seen gushing out of the door having flooded the interior of the store.
Update 3.06pm: Photos sent in showing the flooding outside Masters in Hamilton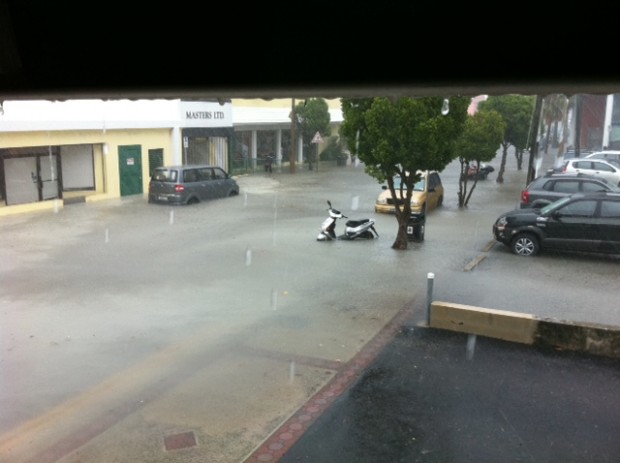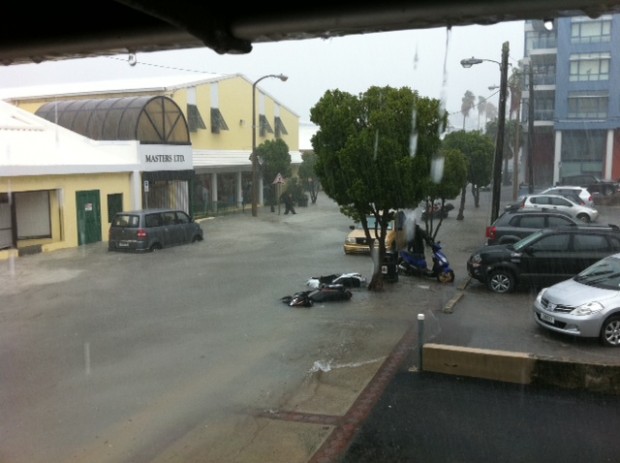 Update 3.11pm: Bermuda Weather Service meteorologist Michelle T. Pitcher said: "As per our previous forecasts, we have had rain showers and a risk of thunder in the forecast for today as well as a thunderstorm advisory. The frontal boundary that is slowly making its way from the south to north of Bermuda developed a weak surface low center along it to our near south early this afternoon.
"The low unexpectedly intensified/deepened as it was passing by our south and that coupled with the expected outflow associated with thunderstorms increased our winds beyond our forecast. We accordingly issued a Gale Warning at approximately 2:30pm as we were seeing sustained winds of about 38 knots with gusts to 46 knots at our Commissioner's Point AWOS station.
"There was extra text associated with the gale warning stating that the stronger winds were in association with heavier showers and thunderstorms. A very active thunderstorm cell passed directly over the Island from approximately 2-3pm. That passage coupled with the unexpected intensification of the low produced the gale force winds.
Update 3.15pm: Bakery Lane is also very flooded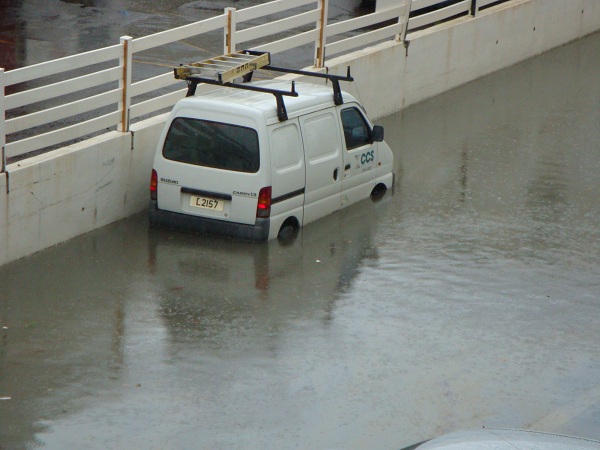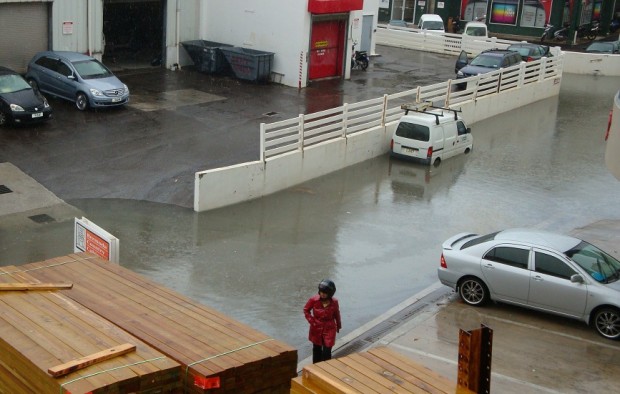 Update 3.23pm: A Government spokesperson said: "Due to the current inclement weather, the 3:45pm ferry departing St. George's has been suspended. The Department of Marine and Ports is liaising with the Department of Public Transportation to have additional busses assist with transport."
Update 3.33pm: Additional photo of flooding on Dundonald Street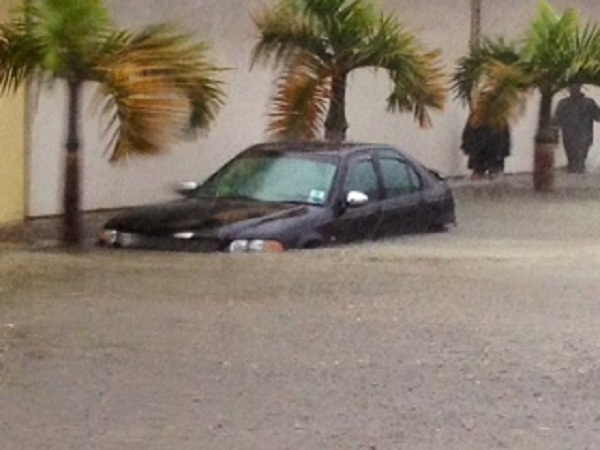 Update 3.52pm: Video of the flooding at the Island Embroidery store on Front Street
Update 3.54pm: The BAA car park is also completely flooded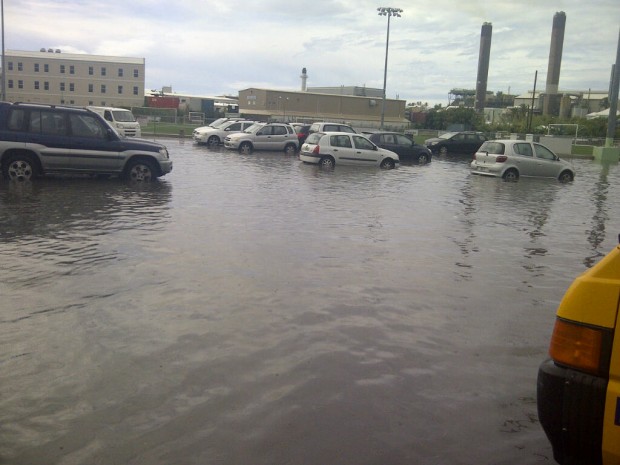 Update 3.56pm: One local appears to be rather enjoying the flooding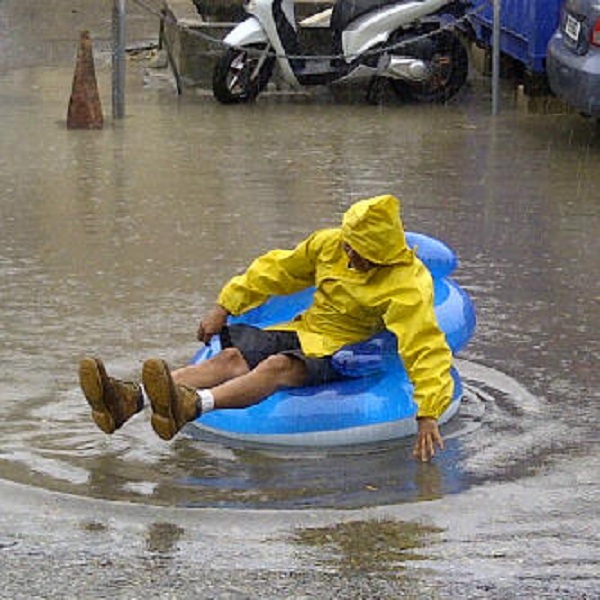 Update 4.02pm: Additional photos showing the flooding on Front Street
Update 4.09pm: A Bermuda Maritime Operations Centre spokesperson said the Norwegian Star "made some contact" with the Explorer of the Seas during the passing off the gale force winds. There is some minimal damage to the vessel's exterior.
Update 4.47pm: A full photo gallery of the flooding is here. A video of cars making their way through the flooding is below.
Update 4.53pm: A fire truck was at Gibbons Company on Reid Street pumping water out of their store. Video below.
Update 5.27pm: There are stacks of visitors lined up waiting to board the cruise ship in Dockyard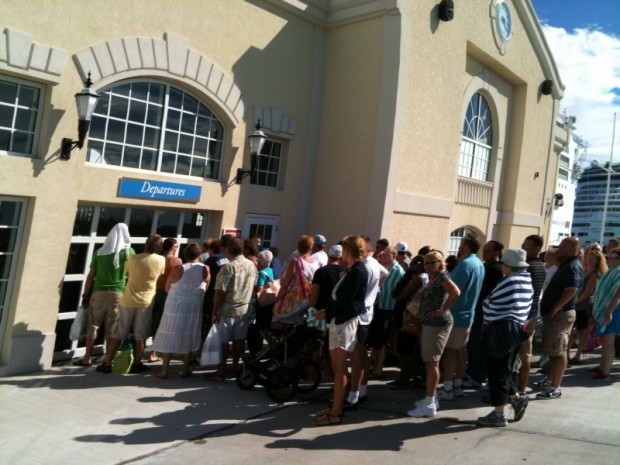 Update 6.01pm: The BWS said we received 2.19 inches of rain today.
Update 6.03pm: A NCL spokesperson said: "At approximately 1:30 pm ET today, a high wind squall caused Norwegian Star's aft mooring lines to break while the ship was docked in Bermuda. There were no injuries, and after a short time of being at anchor, the ship re-docked alongside at the pier.
"Norwegian Star is on a seven-day cruise to Bermuda that departed New York on Sunday, September 9. At this time, the ship is expected to depart Bermuda as scheduled today."
Update 6.43pm: Two planes had to abort their first attempt at landing this afternoon due to the weather, however both landed safely on their second attempt. Full details here.
Update 8.46pm: The Norwegian Star made contact with the the Explorer of the Seas when it broke its moorings, however there is minimal damage to the Star and none to the Heritage Wharf, Transport Minister Walter Roban said. Read his full statement here.
Update 8.59pm: The Gibbons Company store flooded today [see 4.53pm update] and spokesperson for the store said: "On Friday, 14th September, Gibbons Company closed its main store located at 21 Reid Street in Hamilton, at 4pm to ensure the safety of our customers and employees due to flooding.
"Crew are on-site at Gibbons Company and are diligently working through the night to ready the store for opening at 930am tomorrow, Saturday 15th September.
"Gibbons Company would like to thank its employees, the Bermuda Fire Service and additional emergency services who quickly responded to our needs. Their quick action will enable Gibbons Company to provide very little service disruption to our customers. The Gibbons Company Home Store, 18 Church Street, Hamilton, remained open until 6pm."
- Have photos of the flooding? Please email them to info@bernews.com & thanks to those who sent in pics!
Read More About