[Updated] Coworkers Adam and Thomas decided to have some fun this morning [June 15] and attempted to drive a car through the flooded Bakery Lane area in Pembroke.
It appears they outfitted the soon-to-be trashed car with rubber hoses on the muffler and coming out of the engine compartment. The attempt looked like it was doomed when the car floated, and although the engine was running, the wheels lost traction.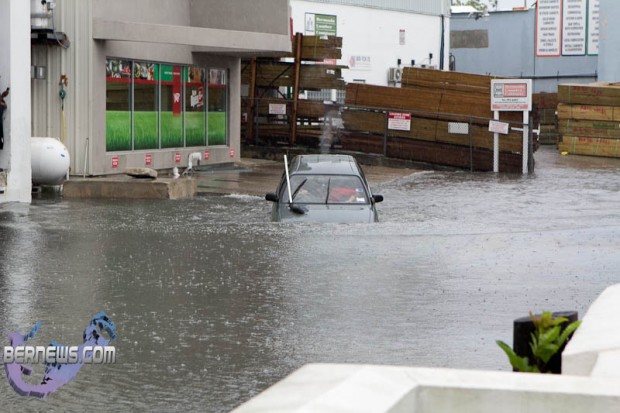 As one drove, the other jumped on the bonnett to try and weigh the car down to gain wheel traction. It was too late. The car stopped mid-water less than 50 feet from the end. The friends came prepared with a boat bumper just in case it was needed.
Heavy "tank rain" fell over the island, causing flooding in many locations including Dundonald Street, Woodlawn Rd, Palmetto Road, Roberts Avenue, Bakery Lane, Bernards Parks and more.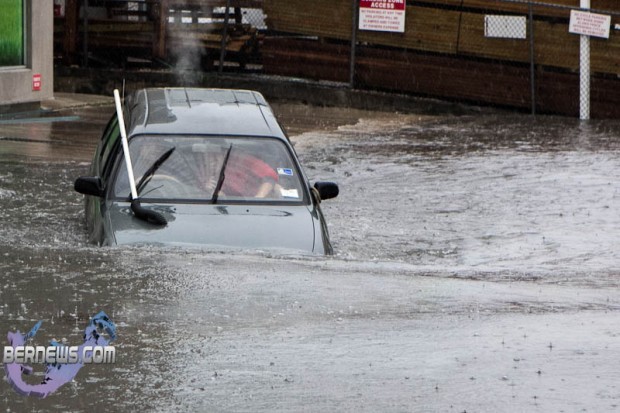 Earlier in the morning, locals had taken to another method of transportation on this same road, with two people seen paddling a boat along a Bakery Road [photos supplied, view video of the rowboat action here].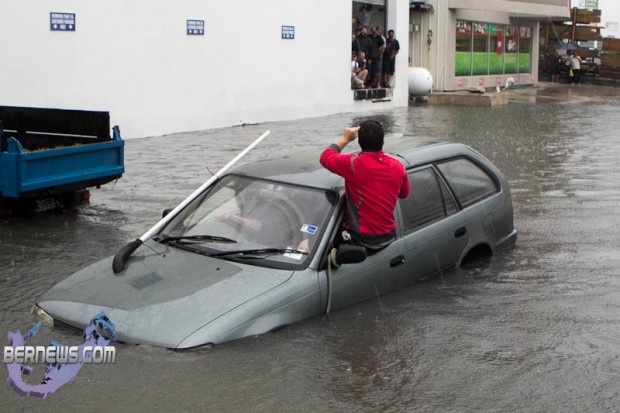 The Bermuda Weather Service issued a Thunderstorm Advisory for this morning, with their forecast saying today will be "rather unsettled" with plenty of cloud and patchy rain or showers. Some of the showers are likely to be heavy with the risk of thunder and gusty winds, they said.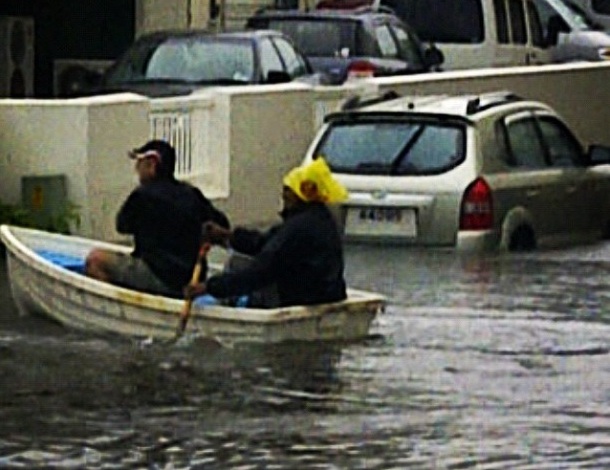 Update 12.08pm: Bermuda Weather Service meteorologist Michelle T. Pitcher said, "Since about 4 am when this area of continuous rain has started until about 12 noon, we have received 2.49″ of precipitation. This is not an unusual amount when you consider the weather features that have and are currently passing through the area.
"There is a surface low pressure center that is slowly moving from our near west to our near south. The proximity of the low has placed our area under a triple point, which is the point that a cold front, warm front, and occluded front meet.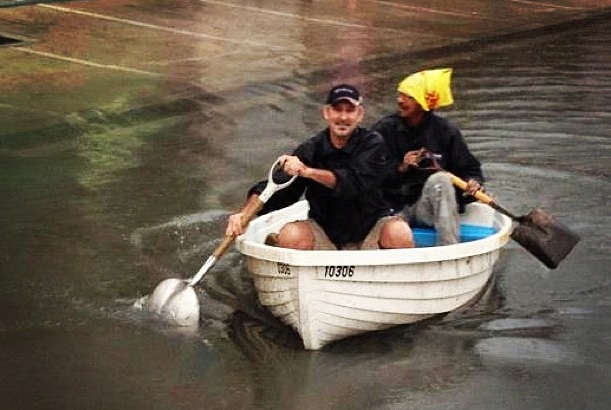 "Doing a quick look back in the climatology, the last time we had over 2″ of precipitation in one day was October 4th, 2011 and that was 2.05″. As far as comparing this year's rainfall over other years, you can look on our climatology page and compare this year's total rain fall with the normal year to date's rainfall for that answer.
"Remember that Bermuda is relatively small compared to the weather systems that move through the North Atlantic. The heaviest rain and most unsettled conditions do not always pass directly over the Island or through our marine area. Today we just happen to be in the right location for the heaviest rain to pass over us while the active thunderstorms remained about 75 miles to our south."
Read More About