Approximately 18 months after its official formation, the One Bermuda Alliance won its first general election, sweeping to a 19-17 victory at the polls. Supporters gathered at Vasco after the polls closed, where the mood was jubilant, with a sea of red flags waving as people celebrated the victory.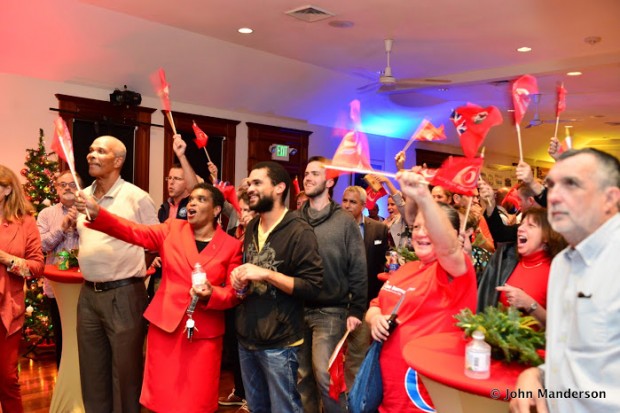 The OBA won 52 per cent of the popular vote with the PLP taking 46 percent and the record field of 15 Independent candidates just two per cent. In numerical terms the breakdown was 15,928 votes for the OBA, 14,186 for the PLP and 628 for the Independents.
The 19 winning OBA candidates and constituencies were: #1 Kenneth Bascome, #2 Nandi Davis,#4 Suzann Roberts-Holshouser, #7 Sylvan Richards, #8 Cole Simons, #9 Trevor Moniz, #10 Michael Dunkley, #11 Bob Richards, #12 Craig Cannonier, #14 Glen Smith, #19 Jeanne Atherden, #20 Susan Jackson, #22 Grant Gibbons, #23 Patricia Gordon-Pamplin, #25 Marc Pettingill, #27 R Wayne Scott, #28 Jeff Sousa, #30 Leah Scott, and #31 Shawn Crockwell.
Click to enlarge images:
Read More About