When 18-year old Dkembe Outerbridge-Dill returns to Bermuda in late May, he will have many tall tales of life on the high seas, exotic ports of call, new friends and new experiences.
But one of the things that Dkembe's parents, family members, friends and even Dkembe himself will be most proud of is that he will have joined the ranks of thousands of other young people from around the world who have embraced the positive life-changing skills that sail-training provides.
Dkembe is pictured on the left: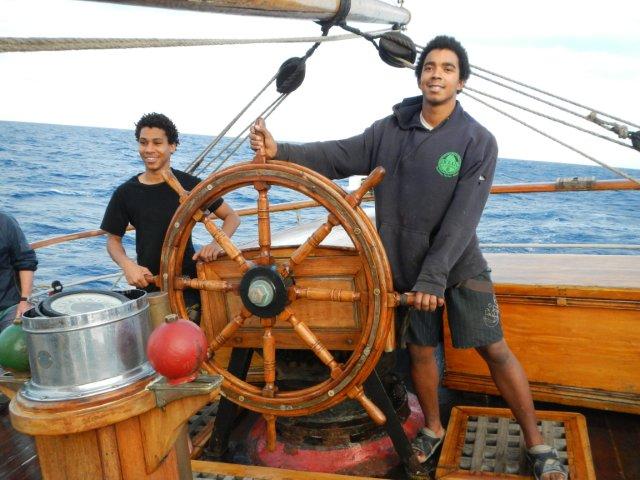 Sail Training Association Bermuda, having learned of Dkembe's passion for the sea and his dream of pursing a maritime career, was extremely pleased to offer a bursary that assisted with the overall cost of his seven and a half month voyage on board the Barque, Picton Castle [a tall ship].
Since joining the Picton Castle last October in the ship's home port of Lunenburg, Nova Scotia for the start of her 2012-2013 South Pacific voyage, Dkembe has already sailed to the Caribbean, Panama and the Galapagos Islands. The ship's itinerary includes numerous stops in the South Pacific including Pitcairn Island, the French Polynesian islands and the Cook Islands including Mangaia, Atiu and Rarotonga where Dkembe will eventually disembark.
Last summer, Dkembe, the son of Zolita Dill of Hamilton Parish and Tafari Outerbridge of Pembroke, was a typical Bermudian teenager with big dreams of seeing the world. As a member of the Academy Football Club, he had visited Holland, Germany and Spain in 2008 and 2010.
The former Berkeley Institute student obtained his GED from the Impact Mentoring Academy in Smith's Parish and had spent a few summers engaged in a variety of summer jobs – in the Government's Parks Department, as a taxi dispatcher, as a farmhand at Wadson's farm and an electrician's helper – but a life on the high seas continued to beckon.
In June 2011, Dkembe joined the Bermuda Sloop Foundation's Spirit of Bermuda, on a service mission to the Dominican Republic and he also sailed on the OPSAIL Youth Ambassador Voyage to Jamestown, Virginia in June 2012.
In 2012, The Bermuda National Training Board provided Dkembe with the opportunity to take a three-month Bridge Watch Rating Course at Holland College Marine Training Centre in Prince Edward Island, Canada. A part of his commitment to the Bermuda National Training Board entailed spending four months at sea. So after he successfully completed the course at Holland College Dkembe applied to join the Picton Castle as a sail trainee on her long South Pacific voyage.
When he learned that his application to join the Picton Castle as a trainee crew member was successful, Dkembe sought financial help for his voyage from Sail Training Association Bermuda, a registered charity that helps to create sail training opportunities for young people in Bermuda. The Association was responsible for organizing the very successful Tall Ships Bermuda/Tall Ships Atlantic Challenge 2009 that celebrated Bermuda's 400th Anniversary of settlement.
The event created opportunities for 150 young people from Bermuda to sail on tall ships to various ports around the world including Bermuda. Dkembe's grandmother, June Dill and his great-aunt, Ellen-Kate Horton accompanied him to his bursary application interview with Sail Training Association Bermuda and Dkembe admitted to the interview committee that while he had not always made the best life decisions he had learned from his mistakes and that he strongly believed that the many positive aspects of life aboard the Picton Castle will strengthen his self-discipline and encourage him to make a positive contribution to his family and to Bermuda.
John Wadson, Chairman of Sail Training Association Bermuda and the interview committee were impressed with Dkembe's focus on his future and his supportive family. They approved his bursary application with the condition that Dkembe send home periodic reports of his experiences on the ship.
Now, half way through his voyage, Dkembe sent the following details of his adventure so far:
Our journey began [October 1st 2012] in picturesque Lunenburg [Nova Scotia, Canada] when my Grandmother and Great Uncle dropped me off at the Picton Castle which was at the pier in Lunenburg Harbour. It was rainy and chilly when we arrived, but what an imposing sight the ship was! It was fairly easy settling into my bunk and all – the hardest part was getting to know everyone, but after a few days of training, I warmed up to everybody.

The first few weeks were preparation – getting cargo and stuff to trade abroad. We were ready to set sail during the middle of October, but Hurricane Sandy came along and held us up for another two weeks. So we spent these two extra weeks practicing sail handling and safety drills and doing more rigging. Finally, the Captain gave us the ok to go and we set sail almost instantly. A journey of a lifetime was beginning. I could hardly wait.

On our way, we divided into three watches, 4-8, 8-12 and 12-4. Originally I was on the 4-8, but as the journey progressed and we got to Grenada I was switched to 8-12. On the 4-8 watch, we get up at 4 in the morning and set sail around 6 – at sunrise. That's where I got most of my practice sail handling and learning lines and things like that. At night time, we had to clean the galley which soon got tedious, but that's ok.

After a while we got to Carriacou and Grenada. We spent three days in Carriacou where I stayed in a hotel and pretty much just relaxed and did some snorkeling. Then, we had a day sail to Grenada where we docked so I could come back to the ship at any time I wanted – so I didn't have to get a hotel to stay out late!

The music in Grenada was just the same as in Bermuda, like Vibes Kartel and Mavado and lots of dancehall, I liked that a lot. The best thing about Grenada was that I met some good people. Some people were not so good, though, but that's the same everywhere I guess. I also visited some waterfalls there.

After Grenada we left for Panama where we anchored at Portobelo on the Caribbean side. We spent three days there where I also found that they listened to our music! From then on I knew that I would like Panama just as much as I did Grenada. After three days there, we were allowed to go through the Panama Canal, which took all day (December 8th). We hoisted the anchor at 4:30 a.m. and then sailed to the canal and got to the first locks at sunrise.

Once we were in the first locks, we pretty much lost control of the ship which was taken over by Panamanians who had been trained to carry ships through the canal. Then we got onto the lakes – it was a sight to see, one of the most beautiful places I've seen in my life! We sailed across the lake for a few hours until we came to the locks to get out. Once there, the Panamanians came back aboard and they took control of the ship again.

There was a little trouble – the pilot who had control of the ship glanced the bob-stay under the bowsprit against the side of the lock. The funny thing was that while everyone was running to assist, I was sleeping under a boat and only woke up when the commotion had ended. But no one got hurt and so it was a good day.

Once on the Pacific side, we stayed in Panama City for about a week. There I did pretty much the same thing as in Grenada – I met some local people and sat up with them. Now we're en route to Galapagos. I am enjoying every moment of this experience – well, most of them!"
Sail Training Association Bermuda continues to help sponsor interested young people on international tall ship voyages each summer and on other international educational tall ship voyages throughout the year. For further information on sail-training opportunities, write to info@tallships.bm
Read More About