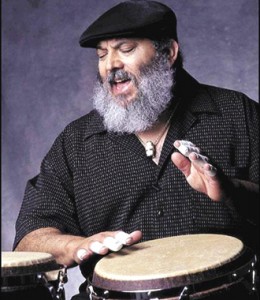 [Written by Rajai Denbrook and Rennika Trott] You know what is great about Latin Jazz? Well, good Jazz in general, but Latin Jazz in particular? The complete and utter lack of pretension, nuanced by the flair and soulfulness of Latin American culture.
Poncho Sanchez and his band were no exception to this when they performed with light-hearted, yet indelible skill at the Fairmont Southampton Princess, on their second evening with the Bermuda Festival 2013.
Completely void of ego, and entirely bolstered by their shared love of music, and each other, Poncho Sanchez and his grammy award winning Latin Jazz Band did not give the audience much of a choice but to enjoy the music that they were enjoying making with each other.
The band wasted no time in diving their audience into the proverbial deep-end with a medley of some of Mr. Sanchez's most familiar tunes, from his "Live In Hollywood" album.
Supported by a soaring wind section, who were only beginning to share with the audience their respective expertise, Mr. Sanchez flexed his seasoned skills and showed, to this reviewers surprise, what can really be done with three tumbadoras (conga drums), inspiring many yelps of "ow!" throughout the various numbers.
Without missing a beat, the band slid into their rendition of Dizzy Gillespie's "Groovin' High", doing complete justice to the classy, enduring classic, whilst showing off their musical range.
Saxophonist Rob Hardt melted the walls, and a few faces, with his solo, but accolades must be given to Bassist Rene Camacho, whose playing caused even his bandmates to bow their heads and whistle out of respect for the master.
Next up was a rattling solo from drummer Angel Rodriguez on the timbales: two snares and a few cymbals have rarely sounded so intricate and engaging, especially when supported by the tight, crisp harmonies of a wind section, bringing the song to an easy and light finish.
After a bit of light-hearted golf related banter with the audience from Trombonist Francisco Torres, the band launched into "Slowly But Surely" from Mr. Sanchez's "Psychadelic Blues" album, with a lofty and commanding start from the wind section, making way for a piano solo, played with impressive ease by Andham Langham.
As if his fingers were fine working solo, Mr. Langham held the audience with every easy skip across the keys, his sense of play never impeding the obvious extent of his love and knowledge of the form. Francisco Torres also revealed that he's much more than a funny man with an equally as impressive, fun, and masterful solo on his Trombone.
The night also received its injection of salsa. Showing the full extent of their capacities for fun, but most importantly, playing outstanding music, the band served up blaring trumpet solos from Ron Blake, another tight, tripping bass line from Mr. Camacho, solid percussion from Joey Deleon, and the unexpected surprise of a jazz flute from Mr. Hardt, inspiring ample dancing in the aisles.
Rounding off the programme was a venture into their Soul repertoire, bringing it all the way home with a solid cover of the soul classic "Raise Your Hand", with Sanchez on lead vocals, and a wonderful cover of Herbie Hancock's "Watermelon Man" for an encore.
As Mr. Sanchez put it during a break in the performance, "we like the camaraderie and the interaction", and he and his comrades certainly lived up to this philosophy, as their soulful, skilled, and easy playing set a fine tone as the opening act of this year's Bermuda Festival.
- Rajai Denbrook and Rennika Trott
Read More About
Category: All, Entertainment, Music