The Bermuda Football Association announced that the senior men's national team will begin preparation for the NatWest Island Games to be held in Bermuda, July 13-19, 2013.
The coaching staff, headed by Andrew Bascome and Dennis Brown, has identified an initial list of local based players that they would like to evaluate for possible inclusion into the player pool for training. Trial matches will take place 6:45pm on Wednesday nights at the BFA Field on January 16th, 23rd and 30th.
Invitation has been sent to the clubs for the following players to be included in selected trial matches: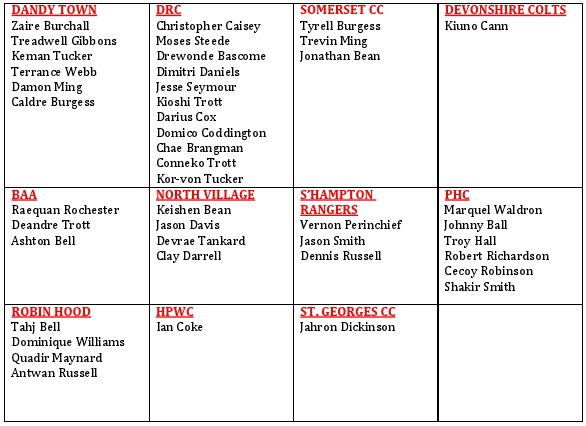 The coaching staff reserves the right to invite additional players into the training pool following the conclusion of these trial matches.
Overseas based players in schools and academies have also not been included in this list but will be factored into consideration during the next phase of assessments to occur upon conclusion of their studies and return to the island.
The teams for the first trial match to be played on Wednesday January 16th, 2013 are as follows:
Red Select: Treadwell Gibbons, Troy Hall, Jesse Seymour, Aston Bell, Trevin Ming, Robert Richardson, Jason Davis, Tyrell Burgess, Moses Steede, Zaire Burchall, Dimitri Daniels, Raequan Rochester, Dennis Russell, Johnathan Bean, Jahron Dickinson, Ian Coke, Cecoy Robinson, Kor-van Tucker
Blue Select: Jason Smith, Kioshi Trott, Conneko Trott, Darius Cox, Deandre Trott, Devrae Tankard, Keman Tucker, Drewonde Bascome, Kiuno Cann, Terrance Webb, Christopher Caisey, Vernon Perinchief, Antwan Russell, Domico Coddington, Shakir Smith, Caldre Burgess, Damon Ming, Clay Darrell
Players are asked to arrive at the BFA field by 6:00 PM to prepare for a 6:45 PM kickoff. Any player unavailable to play is asked to please send notification to the BFA via rtodd@bermudafootball.com .
Head coach Andrew Bascome commented, "These trial matches will allow the coaching staff the opportunity to have a close look at some players that may not have been included at the National level in the past. Some players from previous matches and tournaments have been omitted at this point to allow inclusion of others, but could still factor into consideration for selection into the formal training pool."
Read More About