The RBYC Sailing Academy has been joined by 3-time Polish Olympian, Zizi Staniul to assist with its Winter Training. RBYC Coach Paul Doughty said "Zizi has been to Bermuda many times before to coach the Optimist sailors. He is one of the best Coaches in the world and we are very lucky to have him come here for a few weeks to coach our sailors."
Zizi was coaching the current best Optimist sailors in the world only a few weeks ago in Singapore, so he brings to Bermuda the very latest techniques and some useful tips for our sailors.
RBYC Director of Sailing commented "with the help of Digicel we are able to bring one of the World's experts to help our sailors, Zizi is working with Paul Doughty and myself. We are running our normal Winter Training schedule. Optimist sailors of many levels, including the Silver and Gold Fleet, are out on the water improving their skills.
"This weekend Zizi took the sailors to North Shore to experience the Northerly winds and the choppy sea conditions that they created. Some invaluable lessons were learnt by all. We are grateful to Spanish Point Boat Club [SPBC] who allowed the sailors to use their facilities during the training day."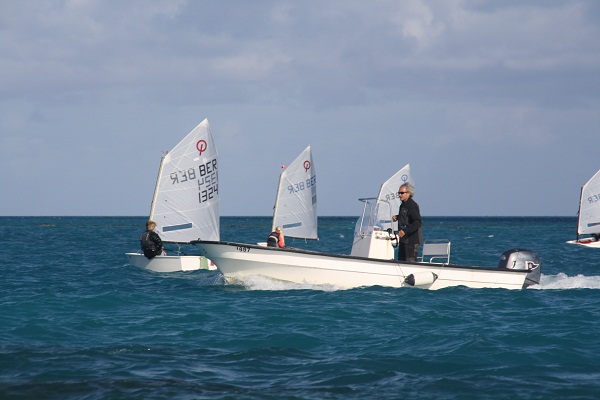 RBYC Sailing Academy's top sailors were revelling in the conditions of this weekend; including Bermuda's Optimist National Champion Benn Smith, BODA Team sailor Chase Cooper [who recently finished 10th at the 2012 Optimist North-Americans [OptiNAm] and 11th at the Orange Bowl], Autumn Series winners Matilda Nicholls and Campbell Patton. Regular Academy sailors like Tayte Stefaniuk, George Buckley [fresh from their Orange Bowl successes] were joined by Camille Chin, Thomas and Adriana Penruddocke.
They all had a rewarding weekend with some stand-out performances. Tre and Taj Maxwell were joined by fellow Digicel Squad Members Jay & Jah Hall and Micah Thomas-Raynor. Grace Reeves, Flo Nicholls, Jordan Etemadi and Felix Cutler worked hard all weekend and made tremendous leaps in their wave sailing technique.
Christopher Adderley, Rian Geraghty-McDonnell and Chris DeSilva all showed very promising improvements as they ventured out into the more challenging conditions of North Shore. These kids were all part of a group of over 20 RBYC Sailing Academy Optimist sailors who trained during the course of the weekend. The training was also opened up to all other Coaches in Bermuda to bring their stronger Optimist sailors to join in the Sunday afternoon session when the conditions were at their best.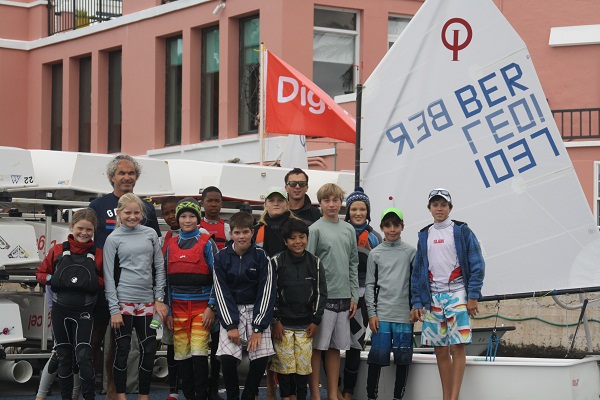 After the first weekend Zizi commented, "I have not been to Bermuda for over a year. It is great to see how these sailors have improved so much. The wonderful sailing conditions combined with an excellent all-year-round Club programme is a great opportunity for the Bermuda sailors.
"The positive attitude to learning and improving by some of the younger sailors is excellent." Zizi will continue his coaching after school during this week and all of next weekend. Not only are the sailors benefiting from Zizi's experience on the water, but off the water, they are having several shore-based sessions where they run through videos of the local sailors' techniques. This allows the young sailors to analyse their performance against other leading sailors from around the world: an invaluable development opportunity.
The RBYC Sailing Academy Winter Training Programme will continue through to the Easter holidays. RBYC's Junior Sailing Chairman Ben Nicholls said, "We are really excited to have such a great opportunity offered to our sailors. It is our intention to run this high level coaching throughout the winter and we hope the kids will benefit enormously from it as they build towards the prestigious North American Championships being held in Bermuda in July. We are very grateful to Digicel for helping us bring Zizi to Bermuda." For more information please contact the Sailing Office at 294-6716 or sailingoffice@rbyc.bm."
Read More About