The Bermuda End-to-End Charitable Trust is launching its 26th annual event, with funds raised this year earmarked to support nine local charities with a special emphasis on the wellbeing and safety of our community.
The brightly coloured brochures containing a 12-week training programme leading up to the 4 May event will appear in mailboxes around the island this week, and organisers are urging aspiring participants to begin preparations for the event now. Everyone is encouraged to keep their copy of the guide in a prominent place to remind them to begin preparations in February.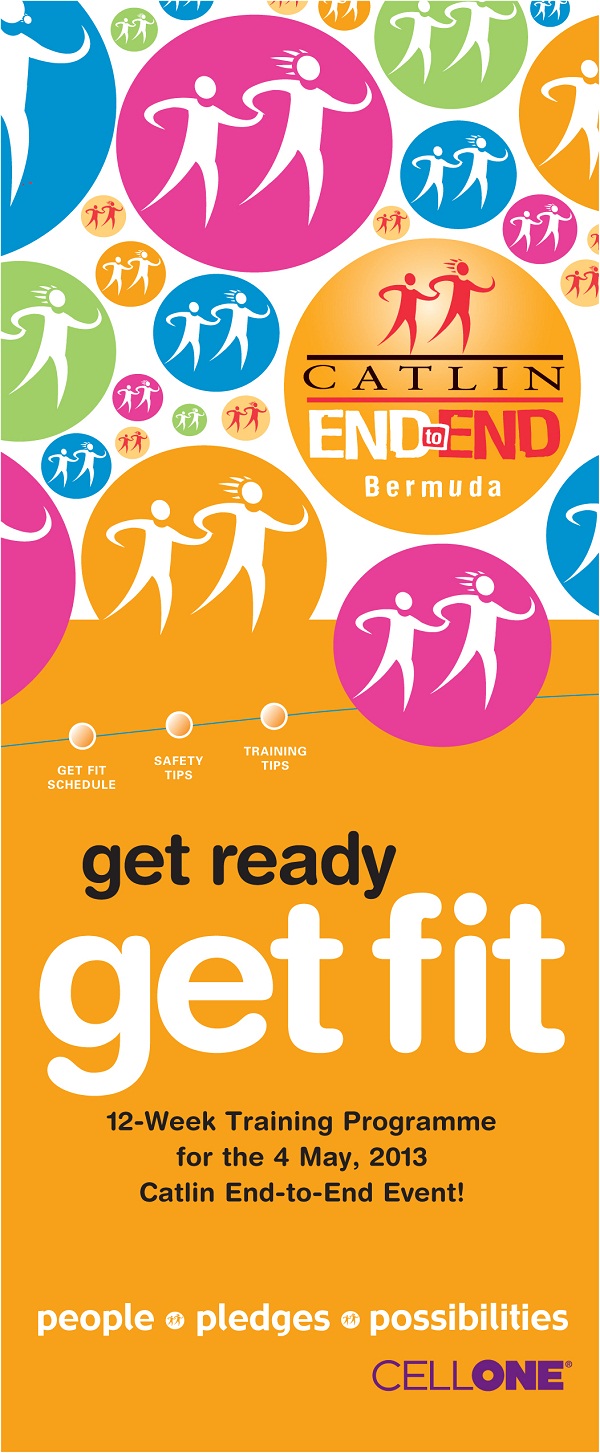 "The time to prepare for the 2013 Catlin End-to-End event is upon us," says End-to-End chair Anne Mello. "We want all our participants to be well-prepared for their trek across Bermuda in the spirit of giving to others. We believe that it's vitally important that our participants start their training now, and in March and April begin to reach out to the people who will sponsor them. In this difficult economy, we all need to push hard to get the support for the nine charities that are helping children, seniors and adults in need."
"Catlin is once again proud to be the title sponsor of this great community event," said Graham Pewter, Catlin Insurance Company Ltd. President & CEO. "The charities that the End-to-End will support in 2013 provide critically important services in these difficult economic times and their efforts deserve our full support".
For children, funds have been pledged to SCARS, the Family Centre, the Coalition for the Protection of Children, and to WindReach. To give educational support for adults, funds will go to The Adult Education Centre. And to help seniors, support will go to Westmeath and to Greenrock, which has a pilot programme to reduce seniors' electricity costs. A detailed list of charities and programmes supported is attached.
"We're also promoting the safety of our participants this year," says Mrs. Mello. "Our Get Ready, Get Fit 12-week training programme, which begins 10 February, provides the right way to gear up to participate and to keep safe while training. In the coming week, look for us, and our partners, at WellBermuda. We'll be out in the community handing out safety lights and walking bands at various locations to encourage our participants – and everyone else training on dark roads early in the morning or after work – to train wisely and keep safe. And our event T-shirt this year is an eye-catching, great-for-training orange."
The Catlin End-to-End event is organised by the Bermuda End-to-End Charitable Trust's Board, and is supported by numerous local sponsors and more than 2,500 individual participants. The event usually raises about $250,000 annually to give to charities and has distributed over $4.25 million over the past 25 years.
The Catlin End-to-End's mission is to be Bermuda's premier annual charitable pledge event, committed to promoting the happiness and wellbeing of our island community through all-inclusive activities.
Read More About
Category: All